Motorcycle accident injury attorneys in Orange County
Motorcycle riders are at risk for serious injuries and even death every time they ride their bikes. Statistics from The National Highway Traffic Safety Administration (NHTSA) attest to that sobering fact. In 2017, 5,172 motorcyclists died as the result of an accident on roads and highways throughout the U.S. Per vehicle miles traveled in that same year, motorcyclist fatalities occurred nearly 27 times more frequently than passenger car occupant fatalities in traffic accidents.
California has the largest volume of motorcycles in the nation with more than 800,000 registered motorcycles. A significant percentage of those motorcycles are registered in Southern California. Out of the 16,505 motorcycle accidents that occurred in California in 2018, 15,527 resulted in injuries while 541 resulted in death.
There are many causes of motorcycle accidents including negligence or reckless driving on the part of the rider, driving under the influence, inclement weather conditions, vehicle defects, and dangerous conditions on public roadways. However, statistics show that approximately 75% of all the motorcycle accidents in California involve a collision between a motorcycle and at least one car.
According to the NHTSA, 80% of all reported traffic accidents involving a motorcycle result in injuries or deaths. This is due to the fact that, when you ride a motorcycle, there is no protective barrier between you, other vehicles, and the road.
While any part of the body can sustain an injury in a motorcycle accident, injuries from a motorcycle accident are more likely to involve the legs, feet, head, and neck. These injuries can be serious or even life-threatening.
If you have been involved in a motorcycle accident that was caused by a driver's negligence, you are entitled to pursue compensation for: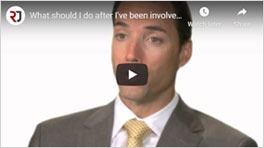 Medical expenses
Medical/assistive devices
Nursing care
Rehabilitation therapies
Lost earnings
Pain and suffering
Medication
Long-term care
If you have lost a loved one in an accident caused by negligence, you may file a lawsuit for wrongful death.
Victims of motorcycle accidents and their families should contact a personal injury attorney with experience in handling motorcycle accident cases to ensure that they get fair and equitable compensation. Roberts | Jeandron Law, located in Orange County, serves victims in Santa Ana and throughout Orange and Riverside Counties.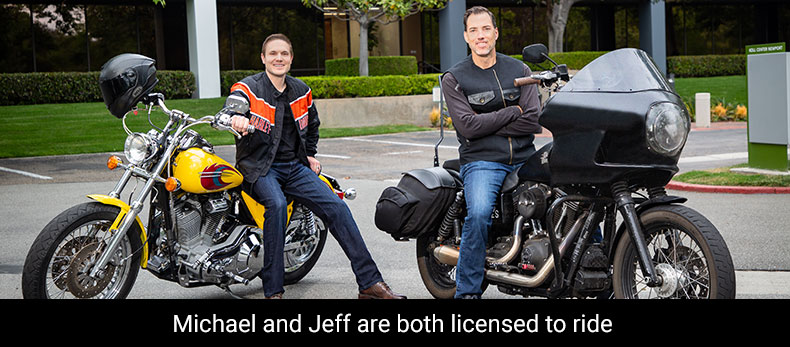 We ride, too
When motorcycle riders are involved in an accident with a car, the result can be permanent injuries that have a lasting effect on the victim's quality of life. Some of the most commonly reported injuries are:
Broken limbs
Spine injuries
Traumatic brain injuries
Head and neck injuries
Internal organ damage
Severe burns
Eye and facial injuries
The physical as well as the financial damage that a motorcycle accident can cause its victim can be extreme. Therefore, it is crucial to the success of your case that you engage the services of an experienced motorcycle accident attorney who has a thorough understanding of the legal process involved in managing your case from start to finish.
If you as the rider are not at fault for the accident, you should be entitled to recover 100% of the assessed damages. However, California is a comparative fault jurisdiction which means that, if you are partially liable for the accident, you still may recover some percentage of the total assessed damages.
At Roberts | Jeandron Law, motorcycle attorneys in Orange County, our attorneys are riders themselves. Not only are we well-versed in the complexities of motorcycle accident law, but we can advocate for you from a place of understanding. Who better to represent you than an attorney that has first-hand knowledge and experience with your situation.
The protection you need
Whether a motorcycle accident case settles or goes to trial depends upon the circumstances surrounding the case, and the quality of your evidence. An experienced attorney will provide you with the necessary legal advice to get you fair compensation for your injuries.
Roberts | Jeandron Law, Orange County motorcycle injury attorneys, work tirelessly to help victims of motorcycle accidents achieve justice and the compensation that they deserve. Our firm has successfully recovered more than $75 million for clients in settlements, judgments and jury verdicts.
If you want to obtain legal help with your motorcycle accident claim, contact our office to schedule a free legal consultation.
Need help? Contact us now!