Motorcycle accidents don't occur with more frequency than other types of accidents, but the probability that they will result in more serious injuries and death is definitely higher vs other types of vehicular accidents. According to the NHTSA, in 2018 motorcyclists were 27 times more likely to die in a crash per vehicle miles than passenger car occupants.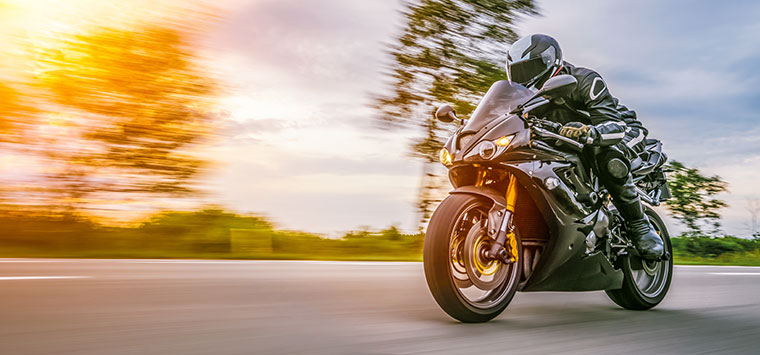 Motorcycles are less visible to other drivers and pedestrians and are more vulnerable to weather hazards and road conditions than drivers in closed vehicles. In order to operate a motorcycle, the driver needs a different combination of mental and physical skills vs. those needed to operate cars and other four-wheeled vehicles.
To ensure your safety out on the highway you need to focus on being prepared before heading out. Be sure to check the weather in your area. Rain, ice, and snow can really compromise your ride because these types of weather hazards can lessen visibility and traction. Inspect your bike before each ride to make sure that it's as safe as possible. Wear the appropriate motorcycle gear — helmets, leather jacket, pants, or chaps, boots, gloves, and goggles.
Once on the road, obey traffic laws, drive the posted speed limit, and make sure you're signaling when necessary. You want to be visible to other drivers, and watch for potential road hazards. And, having awareness about the common types of motorcycle accidents can also help to increase your safety.
The top 6
Because motorcyclists are at a higher risk for serious injuries and even death when involved in an accident, it's important that riders become informed about the most frequent types of accidents in order to help reduce their risk of being involved in one.
The 6 most common types of motorcycle accidents are:
Head-on accidents
Left turn collisions
Lane splitting
Reckless driving
Colliding with a fixed object
Road conditions
Although accidents involving sport and supersport motorcycles account for a very small amount of all motorcycle accidents each year, their riders have a death rate four times greater than riders on a conventional motorcycle.
Motorcycle accident injuries
If you've been involved in a motorcycle accident and have sustained injuries as a result of the other driver's negligence, you are entitled to receive compensation for:
Medical bills/hospital expenses
Nursing care/Long-term care
Rehabilitation therapies
Lost income
Pain and suffering
Medication
You have the right to file a wrongful death lawsuit if you have lost a loved one due to a motorcycle accident involving negligence.
Determining liability in a motorcycle accident is often a real challenge.In order to identify all of the responsible parties it's necessary to establish the cause of the accident so that the injured victim or his or her family can file a claim to receive financial compensation. Therefore, you want to engage the services of a skilled personal injury attorney with experience litigating motorcycle accident cases including negotiating with insurance companies.
Roberts |Jeandron Law, motorcycle accident injury attorneys in Orange County, will work tirelessly to ensure that you get fair compensation for your injuries whether your case settles or goes to trial.
---
Disclaimer: The information you obtain at this site is not, nor is it intended to be, legal advice. You should consult an attorney for advice regarding your individual situation. We invite you to contact us and welcome your calls, letters and electronic mail. Contacting us does not create an attorney-client relationship. Please do not send any confidential information to us until such time as an attorney-client relationship has been established.