Orange County Motorcycle Accident Attorney
Motorcycle accident injuries can be fatal, or at the very least, extraordinarily damaging both physically and financially. Bike crashes can lead to serious injuries, ranging from traumatic brain injuries to spinal cord injuries. If the victim is lucky, they could get away with some soft tissue injuries and road rash, but the treatment of which could prove to be expensive nevertheless. It's important to hold the negligent party responsible for your motorcycle injuries. Once you get discharged from the hospital, connect with a personal injury attorney and get legal help before filing for a personal injury claim.
Roberts | Jeandron Law is a law firm in Southern California that has recovered over $75 million for our personal injury clients in insurance settlements and court verdicts. We deal with all sorts of personal injuries and take cases of motorcycle accidents very seriously. If you suffered an Orange County motorcycle accident and want to recover compensation for all the damages, schedule a free consultation with us now.
What To Do After A Motorcycle Accident
Orange County motorcycle accident victims can suffer mild to catastrophic injuries. Regardless of the extent of your injury, there is a general plan of action that victims of most motorcycle accidents should follow to preserve evidence and get medical attention. Here are some steps to take right after the crash:
Seek medical attention
It seems obvious, but some victims of a motorcycle accident may not think they're hurt and not seek medical attention. At a minimum, present to an urgent care if you've been in a motorcycle accident to document the accident and to list all pain. If you've been thrown from the bike and/or hit your head, call for an ambulance and receive first-aid on the scene of the Orange County motorcycle accident.
File a personal injury claim
At the Scene: If, after the immediate medical attention, you're fit enough to stand and walk, you can explore the scene and find evidence to support your case. Take pictures and video of the scene and the damaged vehicles, and of your bike and where it came to rest. If there are any witnesses, get their phone numbers, names, and addresses, and let them know their eyewitness recollection may be needed later.
From Your Doctor: Don't forget to collect your medical history, medical prognosis, the statement of the doctor, and any other document that proves the extent of your injuries. Save a copy of the medical expenses too. While calculating damages, your motorcycle accident attorney will need the medical bills as they are a big factor in the damages you can recover from the defendant.
Call an Orange County motorcycle accident lawyer
An Orange County motorcycle accident lawyer must be familiar with the ins and outs of the legal process and the California motorcycle laws to help you file your personal injury claim and negotiate with the insurer. The lawyer will identify all liable parties and investigate the accident in order to prove the negligence of other drivers caused your injuries Here is all a motorcycle accident attorney will do for you:
An Orange County motorcycle accident lawyer must be familiar with the ins and outs of the legal process and the California motorcycle laws to help you file your personal injury claim and negotiate with the insurer. The lawyer will identify all liable parties and investigate the accident in order to prove the negligence of other drivers caused your injuries Here is all a motorcycle accident attorney will do for you:
Calculate damages
Victims of a car accident in Orange County can suffer from various catastrophic injuries, such as spinal cord injury, broken bones, road rash, traumatic brain injuries, burns, fractures, and whatnot. The medical expenses for each of these injuries can be hefty.
Personal injury attorneys will determine the total damages by taking into account your medical bills, lost wages, loss of money-earning capabilities in case of permanent injury, and loss of any future earnings into account while calculating damages.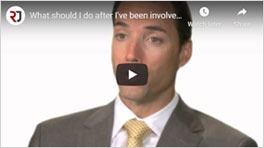 File a personal injury claim
While you recover from your injuries, your motorcycle accident lawyer will file for a personal injury claim on your behalf with the at-fault drivers and their insurance companies.
Negotiate with the insurance company
The motorcycle lawyers at Roberts | Jeandron Law are skilled negotiators with over 30 years experience in obtaining fair, proper and complete compensation for our motorcycle accident clients.
File a personal injury lawsuit
While resolving your motorcycle accident injury claim before going to court is the goal of the lawyers at Roberts | Jeandron Law, at times, insurance companies aren't reasonable, and a case must be pursued in court. We'll file an Orange County personal injury lawsuit and show the insurance company that we mean business!
Fight For You
The motorcycle lawyers at Roberts | Jeandron Law will fiercely represent you and fight for you and WILL do so in front of a judge and jury if necessary to get our injured motorcycle clients the justice, and verdict, they deserve. Schedule a free consultation with us now to get started.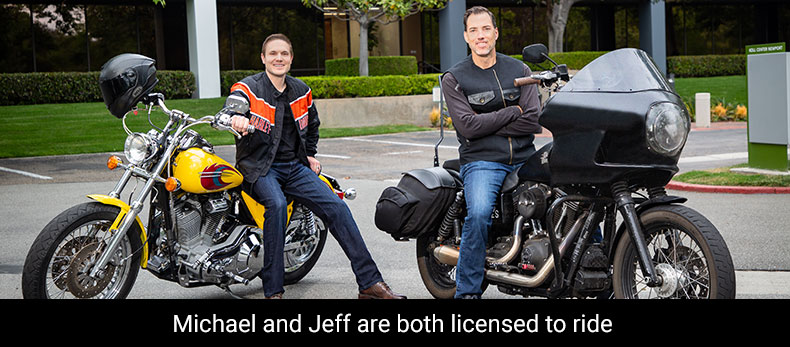 3 Common Causes Of Motorcycle Accidents In Orange County
Motorcycle fatal accidents can have numerous causes, which can even lead to wrongful deaths. The majority of the accidents are caused by the negligence of another driver. Here are some of the most common causes of motorcycle accidents:
Drivers Not Paying Attention to Lawful Lane Splitting by Cyclists
Lane splitting, when a motorcyclist drives between slower moving vehicles, is legal in California when the cyclist is traveling 40 mph or less, and traveling no more than 10 mph faster than the vehicles surrounding them. A top cause of motorcycle accidents is when vehicles suddenly change lanes without signaling and fail to make sure no lane splitting cyclists are approaching. The inattention of drivers is what makes lane splitting a highly risky maneuver for cyclists.
Drivers Making Sudden Lane Changes
Lane change accidents occur when a driver abruptly changes lanes in moving traffic without giving a signal to those around them. Switching lanes with no warning can occassion a catastrophic crash with severe injuries and motorcycle fatalities. Wrongful deaths from these accidents are very common.
Drivers Failing to Yield Right-of-Way to Motorcyclists
This accident and injury occur when a motorcyclist collides with a left turning vehicle that either didn't see the motorcycle or tried to beat them through the intersection. In particular these types of motorcycle accidents in Orange County occur at intersections where drivers can turn left on a green light without having to wait for a green arrow. Motorcyclist should be very alert as they approach intersections with any vehicles waiting to turn left.
If you've been in any type of motorcycle accident in Orange County, contact Roberts | Jeandron Law Orange for your personal injury claim. We'll investigate the case and pursue all of the damages you've suffered.
Is It Worth Suing After A Motorcycle Accident in Orange County
In most motorcycle accident cases, both defendant and plaintiff want to settle things outside of the court. The legal proceedings can prove to be expensive and time-consuming, especially if the case is highly contested and has the chance of being dragged on for too long. There could be frequent visits to the court, not to mention the mental toll any lawsuit can take, whether you did the suing or someone did that against you. Naturally, people try to steer clear of the hassle of lawsuits.
However, the out-of-court settlement is only possible if the insurer is reasonable and offers fair and just compensation. Once an ​​experienced motorcycle accident lawyer has calculated the damages, you can make an initial offer to the insurance company. That's when the negotiations begin. The efforts of any negotiator are to persuade the insurer to give you fair and complete compensation. But, at times, the insurers are unwilling to provide the right amount of compensation, even if you provide them with all the proof that the calculations are justified. Insurance companies want injured motorcycle riders to settle for less than what they deserve.
While filing a lawsuit is never the first option for anyone, it can become necessary if the insurance company refuses to play fair. If that happens, filing a lawsuit to pursue fair and just compensation is appropriate, but only if you have strong legal representation that has courtroom trial experience. The personal injury lawyers at Roberts | Jeandron Law, a law firm located in Newport Beach, have the experience of taking multiple motorcycle crash cases to trial and winning! If you want to seek compensation for your motorcycle crash, and you want winning legal representation, the lawyers at Roberts | Jeandron Law are your Southern California motorcycle accident attorneys.
We have an excellent track record and only get paid if we recover a settlement or verdict for you, so you never pay anything up-front. Schedule a free consultation now to get started with us.
Damages Recoverable In Motorcycle Accident And Personal Injury Cases In Orange County
Motorcycle accident injuries can be devastating since the rider's body is exposed to direct impact from a collision or being thrown from their bike, unlike a driver protected by the structure of a car. The main safety feature for a motorcyclist is their helmet, which California law requires them to wear when riding. But even the best helmet can not always shield a motorcycle rider from the devastating effects of a traumatic brain injury in a motorcycle accident if the rider's head impacts with a stationary object.
Motorcycle accidents cause significant physical damage which leads to mental stress and financial damage from hefty medical bills and lost income. NEVER speak to an insurance company for an at-fault driver before you've discussed your injuries and expenses with an experienced motorcycle accident attorney who can help assess the extent of your damages and value of your claim. Here are some damages that you can recover compensation for from the negligent driver and the insurer in Orange County:
All the medical expenditure you incurred in the treatment of the motorcycle injuries, including the first-aid, ambulance fee, the surgery, the home medical care, and any other surgery that you are likely to undergo because of the accident injuries. If you are required to go for rehabilitative treatment, the compensation will also cover that.
Any property damage that you suffered because of the accident. If your motorcycle became completely wrecked, the defendant would be liable to pay for its repair or replacement, even if the insurance doesn't cover the said property. The same applies to any of the other property damage that you might've suffered.
Lost income – If you cannot work due to your motorcycle accident injury, the compensation will cover your income for all the days that you missed work. Moreover, if the days you spent recovering from your injuries used up your sick and vacation days, the defendant would have to compensate you for that too.
Loss of money earning abilities – In the case of Orange County motorcycle accidents, many victims lose their ability to work, usually due to permanent injury. For instance, if a construction worker permanently damaged a limbs in a motorcycle accident, they would lose their ability to earn an income in their chosen field. If this happens, the defendant would also have to compensate for this loss.
Non-economic damages – Apart from physical damages and financial losses, victims of a motorcycle accident case suffer the worst harm of all: the loss of the enjoyment of living pain free and doing the activities they love. Many injured motorcycle riders require psychological care and therapy due to the trauma and pain they faced after the accident. This is known as pain and suffering damages following a motorcycle accident in Orange County and the at-fault driver is required to compensate an injured motorcyclist for this harm.
In cases where a motorcycle accident in Orange County causes the wrongful death of the motorcyclist, the surviving family members are entitled to compensation for the loss of the love, companionship and financial support of their loved one who died.
Other damages, such as punitive damages, could be involved. Because of the wide array of compensation an injured motorcycle accident victim is entitled to, you should always consult the experienced motorcycle accident attorneys at Roberts | Jeandron Law. We'll gather the necessary evidence, medical records, facts and history to inform you of all damages you're entitled to and in what amount. Schedule a free consultation with us today to understand the full extent of your motorcycle accident damages.
Why Choose Roberts | Jeandron Law Motorcycle Attorneys
The principal partners at Roberts | Jeandron Law are licensed motorcycle riders and know what it means to ride a bike. The firm is known for being great personal injury attorneys in Orange County, California, with phenomenal results for our clients in and out of court. We have been helping personal injury victims recover millions of dollars in personal injury cases for over 25 years. In addition to our specialty handling motorcycle accident cases, we handle all other personal injury matters, including auto, bus, and trucking accidents.
Once you hire us, you can count on us to do all the paperwork and legwork. We'll employ the best negotiators in town to represent your interests in front of the insurers and ensure that you get fair compensation. Jeffrey Roberts, Michael Jeandron, and Hellay Taherian have extensive experience fighting personal injury lawsuits. The courtroom scene is right up our alley. So, if things boil down to convincing a judge or jury to give you fair compensation, you can be assured that you will get what you deserve. Because of disappearing evidence and witness memories, contact us as soon after your motorcycle accident as you can – we'll get to work right away!
Need help? Contact us now!