Product Liability Attorney in Orange County
Experienced Representation in Defective and Dangerous Product Cases
Manufacturers, distributors, and sellers of commercial products have a responsibility to consumers to ensure that those products are reasonably safe for their intended uses.  When these responsible parties fail to properly fulfill their duties, personal injury can easily result.  According to U.S. Consumer Product Safety Commission statistics, nearly 30 million people are injured each year due to defective products.  These injuries can cause severe physical, emotional, and financial difficulties, costing the nation around $700 billion yearly.  If you or a loved one has been injured in the Orange County, California area, product liability and personal injury lawyers at The Roberts | Jeandron Law Firm can help obtain the proper compensation for injuries and wrongful deaths caused by defective products.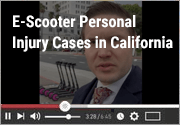 Defective Products
Product liability laws provide protection for consumers by ensuring that parties involved in the manufacture and distribution of commercial products are held liable for the consequences of offering defective products for sale. When defective products cause personal injury, product liability laws enable injury victims to sue for damages. Products determined to be defective generally exhibit one or more of the following flaws:
Design defects (i.e., a product is deemed dangerous due to inadequate or hazardous design)
Manufacturing defects (i.e., a product offered for sale does not conform to manufacturing specifications and causes injury as a result)
Marketing defects (including misleading advertising claims, insufficient or erroneous instructions, and inadequate safety warnings)
It is usually irrelevant to product liability cases whether manufacturers exercise due care in attempting to avoid defects, as product liability is generally considered a strict liability claim; in other words, if a defect exists in a manufacturer's product, and that defect causes injury such as traumatic brain injury or spinal cord injury, the manufacturer is liable for damages regardless of any effort expended to prevent defects. To determine what damages may apply to your product liability case, schedule a consultation at the Orange County-area office of product liability and personal injury lawyer Jeff Roberts.
Product Liability Cases
Any product used by consumers can be subject to design, manufacturing, or marketing defects.  Product liability suits have been filed due to defects in many types of products, including motor vehicles such as automobiles, motorcycles, and buses; medical products and equipment; dangerous or improperly tested drugs and medications; home repair products; farm equipment; toys; toxic chemicals; roadways and sidewalks; and many others.  Parties that may be held liable in product liability cases can include the manufacturer of a defective product, wholesalers or distributors of the defective product, the retailer who sold the product, and any other party involved in the design, manufacture, or marketing of the product.  Those who are injured due to a defective product may be entitled to compensation from these liable parties for their physical, emotional, and financial damages.  However, because product liability cases can be complex and time-consuming, the aid of an experienced attorney is essential to mounting a successful case.  At the Placentia, Orange County office of product liability and personal injury lawyer Jeff Roberts, we can represent you and handle all aspects of your product liability claim with the expertise necessary to resolve your case successfully.
Contact Roberts | Jeandron Law
f you or a member of your family has been injured in the Orange County area due to use of a defective product, product liability and personal injury lawyer Jeff Roberts offers the experienced representation you need to secure the compensation you deserve. Schedule an appointment at The Roberts | Jeandron Law Firm today, and Jeff Roberts or another of our experienced product liability attorneys will help evaluate your case and answer any questions you might have.