Uber Accident Attorney Orange County
What makes Uber accidents more complex than other types of car accidents is that Uber drivers are considered independent contractors under labor law, not employees of the company, which affects liability in accident cases. There have been many measures to make drivers employees, but until the labor laws change, these cases have to be dealt with in a particular way. This is why it is imperative that you speak with an experienced Uber accident attorney in Orange County right away about your accident. Roberts | Jeandron Law can help you get the settlement that you deserve.
Types of Uber Accidents
Taxi services require their drivers to be licensed and bonded, but Uber doesn't have these types of regulations. They are much more relaxed in terms of background checks, driver training, and other risk management measures that taxi companies usually take. Unfortunately, these lax requirements can make ride-sharing more dangerous.
Speeding Accidents
Uber drivers need to transport the most riders they can to make the most money. Unfortunately, this motivates them to speed from one location to another. Speeding is one of the top three causes of fatal and serious non-fatal accidents in the United States.
Accidents Caused By Distracted Driving
Uber riders request a ride in an app installed on their phone. The driver, also reliant on their phone, agrees to pick up a rider at a specific location. A driver needs to look at their phone to constantly refresh the app and book rides, which means they are more prone to distraction. Drivers can also become visually distracted when scanning sidewalks and corners for riders. As the driver focuses on the side of the road where their fare might be, they are not necessarily looking directly in front of them.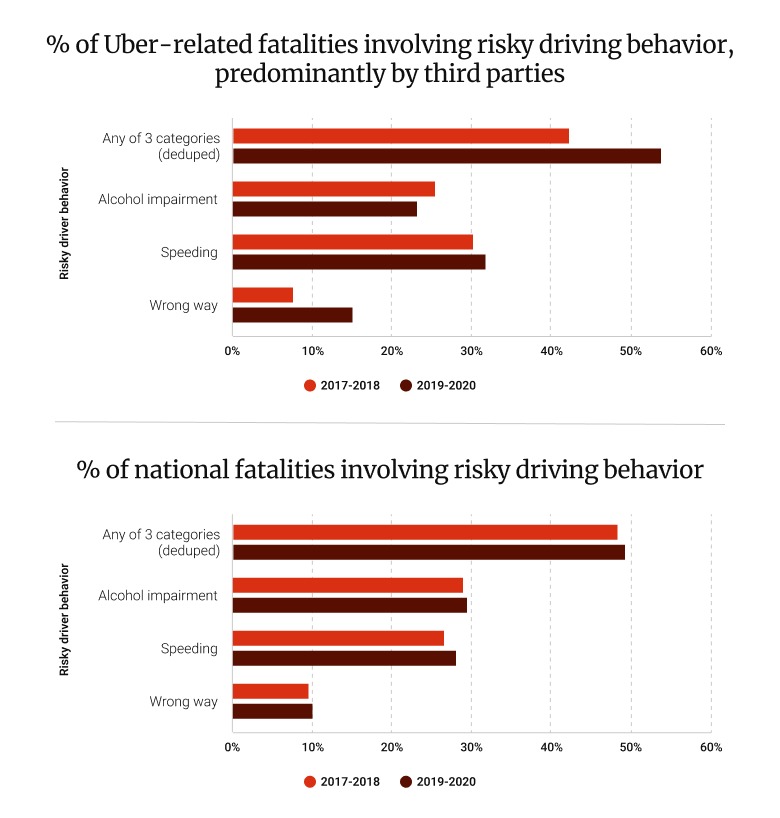 Source: https://uber.app.box.com/s/vkx4zgwy6sxx2t2618520xt35rix022h?uclick_id=8193c725-6c32-40bf-9499-535bb4728f4c
Uber Accidents Involving Pedestrians
Uber drivers are known for bike lane violations when drivers stop, park, or drive in bike lanes to pick up, drop off, or scan for riders. Unfortunately, violations are rarely enforced, so the problem persists. According to the National Safety Council, 1,260 bicyclists were killed in 2020, a 16% increase from 2019 and an increase of 44% in the last ten years. Preliminary figures show that cycling fatalities increased by another 5% in 2021, according to the National Highway Traffic Safety Administration (NHTSA). Cities are trying to do more to protect bicyclists and pedestrians by painting bike lanes green and using concrete curbs or barriers.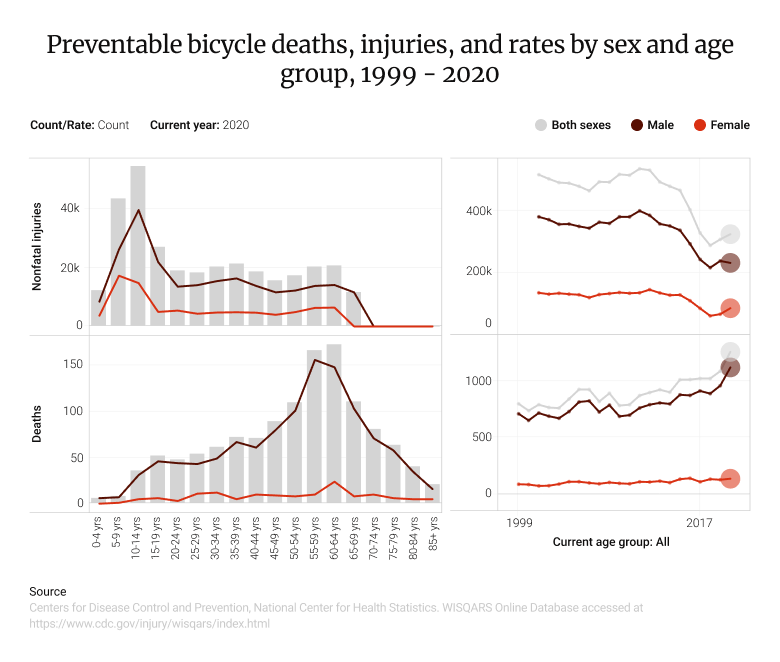 Source: https://injuryfacts.nsc.org/home-and-community/safety-topics/bicycle-deaths/#:~:text=According%20to%20the%20National%20Highway,all%20motor%2Dvehicle%20traffic%20fatalities
Injuries From An Uber Accident
Uber accident injuries can range in severity from injuries that can heal in a few weeks to life-threatening, permanent injuries, including the following:
Whiplash
Sprains and strains
Cuts and bruises
Traumatic brain injuries
Spinal cord injuries
Head and neck injuries
Broken bones
Limb loss and amputation
Burns and road rash
Wrist and hand injuries
Soft tissue damage
Permanent facial disfigurement and scars
Paralysis
Damages In An Uber Accident
When you have been involved in an Uber accident, there are two types of damages that you could potentially receive: economic damages and non-economic damages.
Economic damages compensate you for financial losses due to the Uber accident. They encompass all of your medical bills, your lost wages when you missed time from work, future lost wages in case you cannot return to your former occupation due to your injuries, and other out-of-pocket expenses. If you were driving your own vehicle when an Uber driver struck you, then the damage to your car or the cost to replace it is included in your economic damages.
Noneconomic damages compensate you for your subjective losses that are harder to quantify but are nonetheless real. Going through an accident and experiencing physical harm to the body takes a huge mental toll on a person. You can file for damages for how the accident has negatively impacted your life, family, career, and mental health. Your attorney can argue that the accident caused you anxiety, depression and loss of enjoyment of life, and how much you expect to be compensated for it.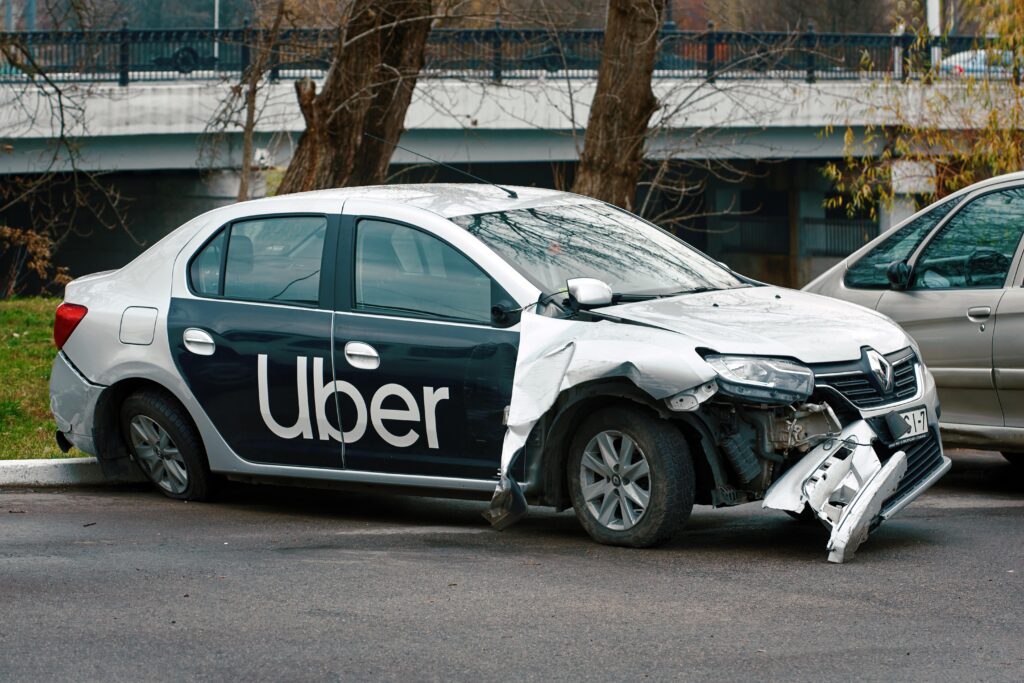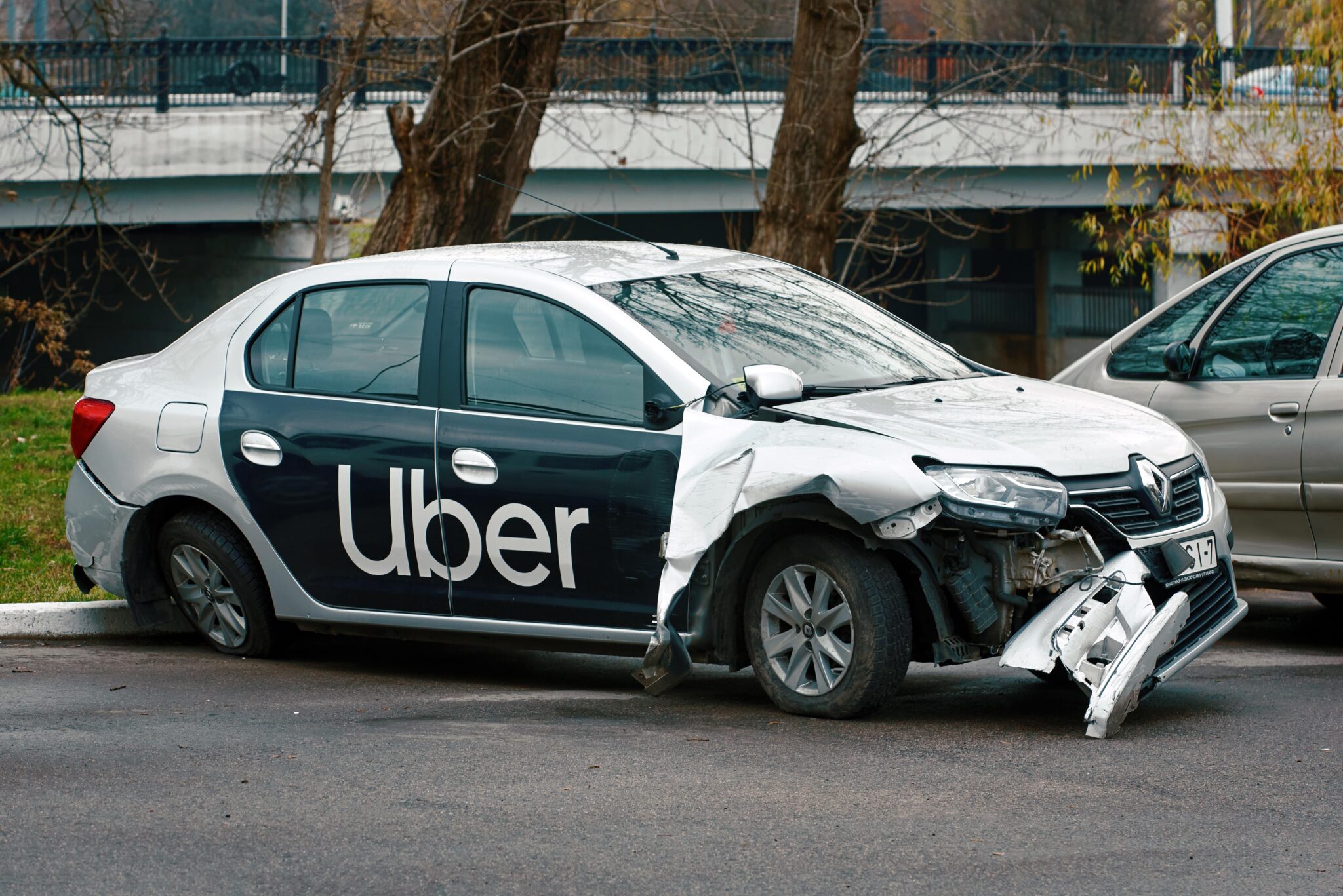 Who is responsible for the damages from my Uber accident?
Rideshare companies must carry bodily injury liability insurance and coverage for property damage for passengers, pedestrians, and other motorists when they are injured. However, there are many contingencies, and the slightest detail can affect liability:
Did the accident happen when the Uber app was off or inactive? If so, then the driver is at fault, and their auto insurance will cover the cost of the accident.
Did the accident happen when the Uber app was on, and the driver was on their way to pick up a passenger? If so, then Uber is liable for the accident.
Did the accident happen because of an action or choice made by the Uber driver? For example, if the Uber driver showed up high to pick up a passenger. If so, then the Uber driver would be responsible for damages.
Discussing your accident with an experienced Uber accident attorney in Orange County can be extremely beneficial for you. When you are already suffering from injuries from an accident, it is very hard to take on the additional stress of filing a personal injury claim, especially when you become aware of how complex your case may be. We know how to handle Uber cases and can advise you on which laws are relevant to your case. We work hard to establish liability so that you get the compensation you deserve.
Talk To An Uber Accident Attorney in Orange County
Call 949-238-1679 to schedule your free consultation with an injury attorney from Roberts | Jeandron Law. We can help you get the compensation you deserve if you have been injured due to someone else's negligence. We help you navigate the legal process to get the best possible outcome and have successfully recovered more than $75 million for California clients in settlements and jury verdicts. Call us now.