Accreditations
State Bar of California

The mission of the State Bar of California is to protect the public and includes the primary functions of licensing, regulation, and discipline of attorneys. Additionally, it involves the advancement of the ethical and competent practice of law, and support of efforts for greater access to, and inclusion in, the legal system.
United States District Court – Central District of California (CDCA)

The CDCA serves over 19 million people in Southern and Central California, making it the most populous federal district. The CDCA is divided into three divisions, with jurisdiction over seven counties including Riverside, San Bernardino, Orange, Los Angeles, San Luis Obispo, Santa Barbara, and Ventura.
Veterans Legal Institute (VLI)

The Veterans Legal Institute provides pro bono legal assistance to homeless, at risk, disabled, and low income current and former service members to eradicate barriers to housing, healthcare, education, and employment and to foster self-sufficiency.
American Board of Trial Advocates (ABOTA)

ABOTA is a national organization of experienced trial lawyers and judges, dedicated to the preservation and promotion of the civil jury trial right provided by the Seventh Amendment of the United States Constitution. ABOTA membership consists of more than 7,600 lawyers and judges in 96 chapters in all of the 50 states and the District of Columbia.
American Association for Justice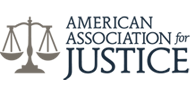 The mission of the American Association for Justice is to promote a fair and equitable justice system and to support the work of attorneys in their efforts to ensure that any person who is injured by the misconduct or negligence of others can obtain justice in America's courtrooms, even when taking on the most powerful of interests.
Intertribal Court of Southern California(ICSC)

The ICSC was formed in 2002 with the purpose of providing tribes from across Southern California with an independent and culturally sensitive forum in which to present and resolve disputes. The ICSC functions as a circuit court and hears an average of 580 cases per year.
United States Court of Federal Claims

The U.S. Court of Federal Claims is authorized to hear primarily money founded upon the Constitution, federal statutes, executive regulations, or contracts, express or implied in fact, with the United States. Additionally, the court hears intellectual property, Indian tribe, and various statutory claims against the U.S. by individuals, domestic and foreign corporations, states and localities, Indian tribes and nations, and foreign nationals and governments.
The National Trial Lawyers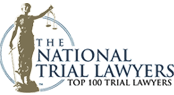 The National Trial Lawyers in a professional organization composed of premier trial lawyers from across the United States who exemplify superior qualifications as civil plaintiff or criminal defense trial lawyers. The organization offers networking opportunities, advocacy training, and the highest quality educational programs for trial lawyers.
Consumer Attorneys of California (CAOC)

Consumer Attorneys of California is a professional organization that represents the interest of 39 million Californians. Our member-attorneys stand for plaintiffs seeking accountability from those who do wrong such as individuals injured or killed by defective products or drugs or citizens whose civil rights have been violated.
The U.S. News – Best Lawyers®

The U.S. News – Best Lawyers® "Best Law Firms" rankings are based on a rigorous evaluation process that includes the collection of client and lawyer evaluations, peer review from leading attorneys, and review of additional information provided by law firms as part of the formal submission process.
Orange County Bar Association (OCBA)
The Orange County Bar Association provides a wide variety of programs, services, and opportunities for its attorney members, the judiciary, and the community. The OCBA is one of the largest voluntary bar associations in the state of California, with over 9,000 members.

Expertise.com Top 10 Motorcycle Accident Lawyers
Their team hand-picks the top law firms, by conducting a manual review to verify that each company on their list is truly one of the best. They grade each business by the following criteria: availability, qualification, reputation, experience, and professionalism.
Orange County Trial Lawyers Association ( OCTLA)

The mission of the Orange County Trial Lawyers Association is to protect the rights of people who have been harmed by the wrongful acts of others by providing superior education and training for attorneys, access to the collective resources, knowledge, and experience of its members, and the promotion and support of laws which correct injustice and protect access to the civil justice system.
ProVisors
Founded more than 30 years ago in Los Angeles by a leading investment banker and a top attorney, ProVisors is a carefully crafted referral network with more than 6,000 members in major cities throughout California, Boston, Chicago, Atlanta, Seattle, and Dallas. A carefully curated referral network,
SuperLawyers

Super Lawyers is a rating service of outstanding lawyers from more than 70 practice areas who have attained a high degree of peer recognition and professional achievement.
Avvo

Avvo is the leading online legal marketplace, providing lawyer referrals and access to a database of legal information consisting primarily of previously answered questions. Lawyer profiles may include client reviews, disciplinary actions, peer endorsements, and lawyer-submitted legal guides.