Injured?
What to Do if You've Been Injured
Personal Injury Attorney Orange County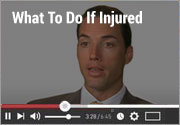 When an injury or death occurs, it can be difficult to know how best to proceed in order to protect your rights and those of your family. Whether the cause of the injury is a motor vehicle accident, a defective product, or a slip and fall accident, the aftermath of a personal injury can be a complicated and confusing time for anyone, especially in the case of severe damage such as a traumatic brain injury, spinal cord injury, or wrongful death. On this page, Newport Beach, Santa Ana, and Orange County-area auto accident and personal injury attorney Jeff Roberts and The Roberts | Jeandron Law Firm present some general steps for accident victims to follow in the aftermath of an injury.
Page Topics:
What to Do If You've Been Injured in a Motor Vehicle Accident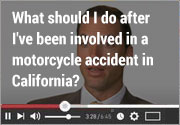 Motor vehicle accidents occur every day and can involve any type of vehicle traveling on a roadway, including automobiles, motorcycles, buses, and trucks. Serious injuries frequently result from motor vehicle accidents, and when a motor vehicle strikes a bicycle or pedestrian, the consequences can be devastating. If you or a loved one is injured due to a motor vehicle accident in the Newport Beach, Santa Ana, or Orange County area, auto accident and personal injury attorney Jeff Roberts recommends taking the following steps:
Call the police and note the names of all officers responding to the accident
Obtain medical attention for any injured parties
Gather insurance and contact information from all drivers involved in the accident
Report the claim to your insurance company
Take photographs and detailed notes documenting the accident scene, including any vehicular damage
Do not at any time admit any degree of fault for the accident
Contact an experienced auto accident and personal injury attorney as soon as possible
[
back to top
]
What to Do If You've Been Injured by a Defective Product
If you have been injured as a result of using a commercial product you used for its intended purposes, you may have a valid product liability case.  In order to preserve your chances of recovering the full amount of damages to which you may be entitled, we recommend following the below steps:
Seek medical treatment immediately
Save the product which caused the injury, without altering it in any way if possible
Retain all documents associated with the product, including manuals and other documentation along with receipts for purchase
Gather names and contact information for any people who witnessed the injury
Document the scene of the injury and the sequence of events leading to the injury
Photograph the injury-causing product in its position at the time of the injury
Save any clothing or other personal items which were damaged, torn, or stained
Schedule an appointment with a skilled product liability lawyer
[
back to top
]
What to Do If You've Been Injured While on Another Party's Property
Injuries which occur on property belonging to anyone other than the injury victim, including slip and fall accidents, frequently result in premises liability claims.  If you or a member of your family has been injured within a private residence, apartment building, or place of business, or on a street or sidewalk, you should contact a personal injury attorney in your area to answer any questions you might have and take the following steps:
See a doctor as soon as possible
Photograph your injuries along with the location of the injury-causing accident
Obtain names and contact information of any witnesses
Write out a detailed account of any events that occurred leading up to and following the accident
If you are injured at your workplace, inform your supervisor and human resources department
Do not accept any offers made by the property owner before speaking with an premises liability attorney
[
back to top
]
Schedule a Consultation at The Roberts | Jeandron Law Firm
Contact The Roberts | Jeandron Law Firm today to schedule a no-cost consultation at our Newport Beach, Santa Ana, and Orange County-area office with an auto accident or personal injury attorney. Regardless of the cause of your personal injury, we will work with you to ensure that the responsible party or parties are held accountable for their actions.