Car Accident Attorney Orange County
Orange County California saw 11,951 car accidents in 2021. One hundred and fifty of those accidents were fatal. There are always plenty of drivers from out of town in the beautiful beach communities of the OC. Those visitors are often unfamiliar with the many one-way streets and winding roads in town. The population of the OC is ever-increasing and the city has not installed traffic lights in the places where they are needed.
Studies have shown that speeding is a major cause of accidents in the state of California and in the country, In 2021, 45.3% of accidents happened because of speeding. Turning mistakes cause just over 20% of accidents, and 10.9% of accidents were caused by driving under the influence of alcohol.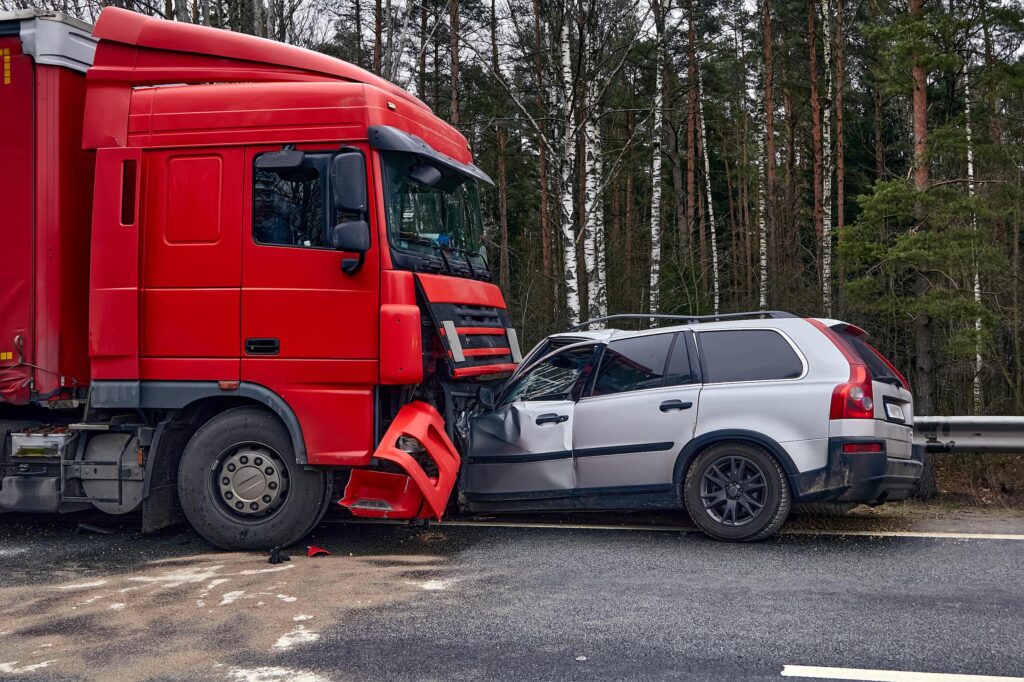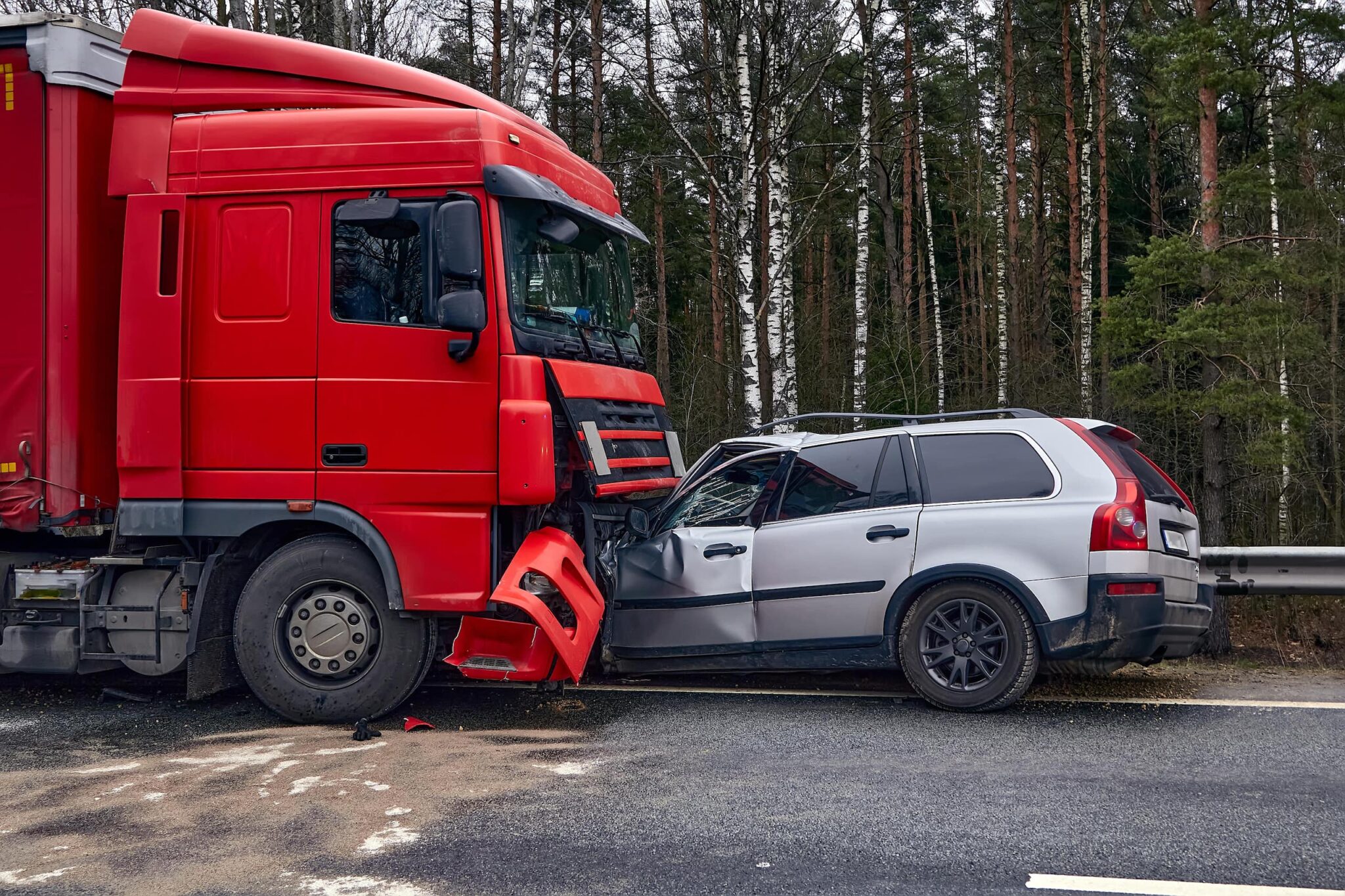 If you have been injured due to the negligence of another person, a business, or the county government, you are entitled to compensation. Insurance companies are often hesitant to give claimants the money they deserve. If an insurance company has denied your claim, or if they do not offer you as much money as you feel you should get, Roberts | Jeandron Law can negotiate with the insurance companies on your behalf. We can even you in court in the event that you have to sue an insurance company or another driver.
In 2018, nearly 242 people lost their lives in car accidents. This doesn't even cover half the people who suffered injuries in auto accidents. You don't need us to tell you just how expensive medical treatment for traumatic injuries from motor vehicle accidents can be. Should you really be the one to bear the burden of it when the fault is of another?
Drunk driving and distracted driving account for the majority of car accidents. If it's someone else's negligence that caused your serious injuries, you can hold them liable for the damage you've suffered. Unsurprisingly, many catastrophic accidents occur in the third most populous county in California, Orange County.
To recover damages from an auto accident in the region, contact the law firm Roberts | Jeandron Law. We are a personal injury law firm in Orange County, CA, that can help you win fair compensation from the insurance company without a fuss. Schedule a free consultation to hire the best Orange County car accident attorney today.
Car Accident Laws In California
California is very particular about its car accident laws and requirements. The statutes determine what the insurance claim damages can be recovered if the liability has been established and negligence has been proven. It also explains WHEN a personal injury lawsuit can be filed against the defendant. It's best to hire a lawyer familiar with these laws before taking any legal action against the negligent driver.
Is California a Tort or No-Fault State?
Two basic types of insurance laws exist in the United States — tort and no-fault. In a no-fault state, a person's insurance company will pay for their accident-related medical bills regardless of who caused a crash. The insurance company of the driver who caused the accident will pay for damages to the property. In a fault or tort state, the insurance company of the driver who caused the accident is financially responsible for all of its associated bills.
There are several different types of tort rules in the United States.
Contributory Negligence
Contributory negligence is the harshest of insurance laws. It states that if a person is even 1% responsible for an accident, they will not be able to collect any insurance money for their injuries.
Comparative Negligence
Most states follow a comparative negligence rule. In a comparative negligence state, you can receive compensation for the percentage of the accident you did not cause.
Modified Comparative Negligence
In a modified comparative negligence state, you may receive compensation for your injuries if you were less than 50% or 51% responsible for an accident.
Pure Comparative Negligence
In a pure comparative negligence state, you can receive compensation for injuries you suffered even if you were 99% responsible for an accident. California is a pure comparative state.
Insurance companies want to keep their money in-house and an at-fault driver's insurance company may try to make it look like you were 100% responsible for an accident or more responsible than you were. This is why you need to be meticulous about collecting evidence and why you should hire a trained personal injury attorney to talk to the insurance adjuster for you.
Minimum Insurance Requirement
As per California law, all drivers are financially responsible for the accidents they cause. California law establishes minimum insurance requirements for all drivers. Here are California's minimum insurance requirements:
$15,000 insurance for death or injury of one person
$30,000 insurance for death or injury of more than just one person
$5,000 insurance for any property damage
Every ​​California driver is advised to keep proof of insurance available at all times while driving. Any time a driver is involved in a motor vehicle accident, regardless of whose fault it was, driver's are required to show a copy of the insurance to the authorities. If a driver fails to produce proof of insurance, the driver can be penalized for violating the rules. Penalties for continued failure to provide proof of insurance can be a suspension of driving privileges.
These are just the minimum insurance mandated by the laws of the State of California. You should buy additional coverage to keep yourself safe. Here are some of the other forms of insurance that should be purchased. This coverage is critically important for all cases, even if you were not at fault for the crash.
Medical Payments coverage
Comprehensive Collision coverage
Rental Car coverage
Uninsured / Underinsured Motorist Coverage
Umbrella Coverage
If you want to know more about the automobile accident laws of California, from the perspective of both the injured party, contact Roberts | Jeandron Law to get an insight on how you can keep yourself insured and protected.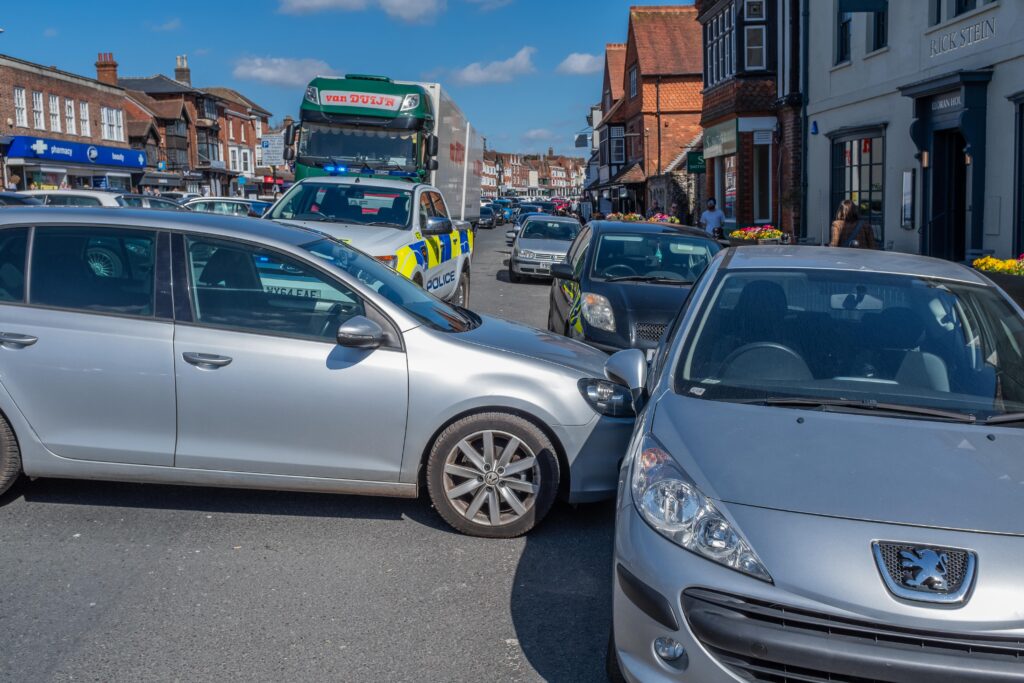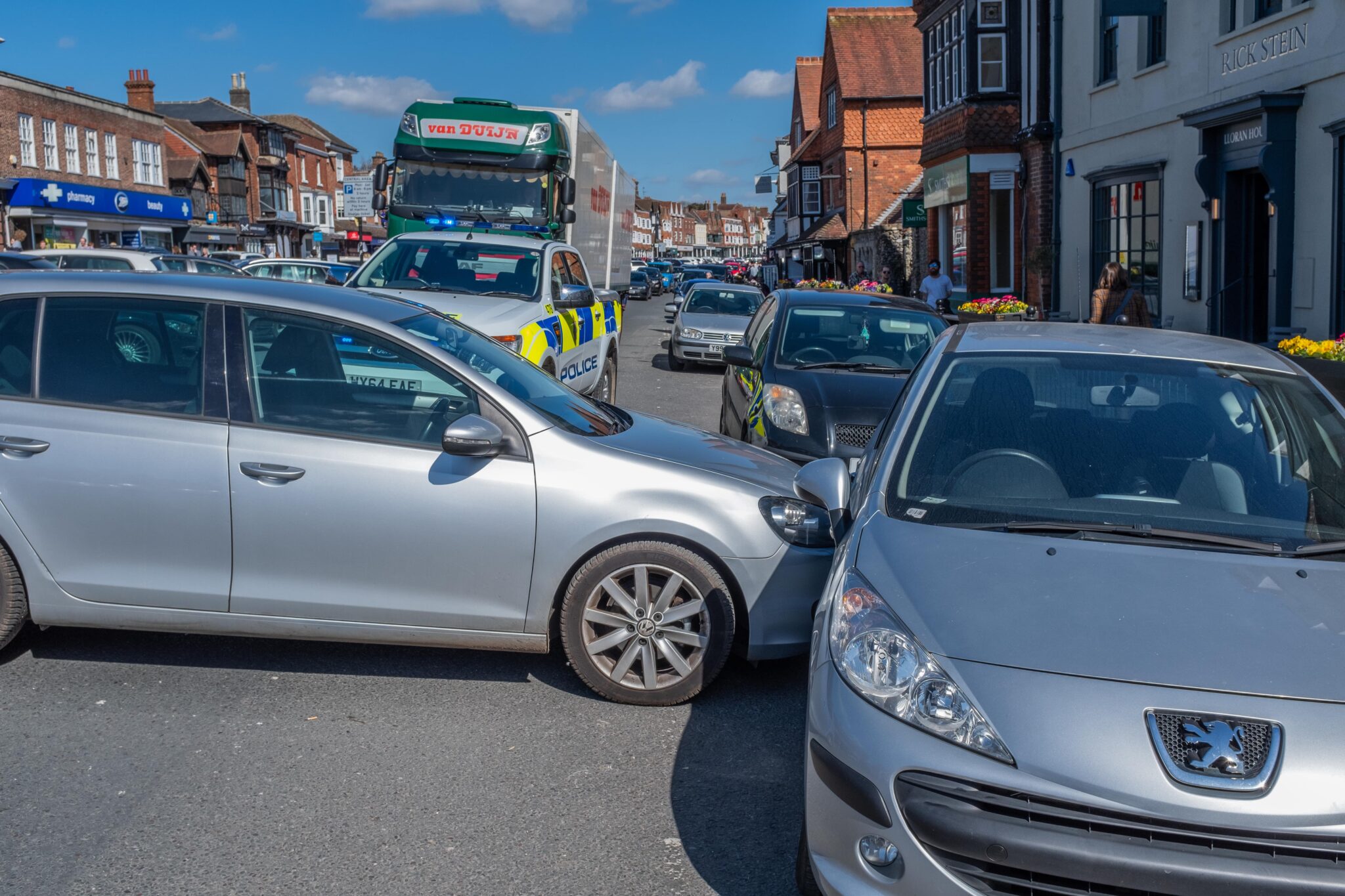 Accident Reporting Requirements
California mandates for all people involved in the accident to stop at the scene and exchange insurance information. Moreover, as per California Vehicle Code § 20008, the drivers involved in the car crash must report the accident to the California Highway Patrol after the crash. However, if a police officer arrives at the scene and writes up a report, the reporting requirement is satisfied.
If the driver who injured you flees the accident scene, the crash will be categorized as a hit and run. Your Orange County personal injury lawyer can argue that fleeing the scene is evidence of liability against the fleeing driver.
Common Causes Of Car Accidents
Many car accidents are caused due to human error. That's not to say that external conditions don't play a role in the event. At times, it is the combination of the unsafe road conditions and the negligence of the drivers that lead to horrific crashes. Here are some of the most common causes of car accidents that you need to be aware of:
Distracted Driving
Reckless Driving
Speeding
Wet Roads
Potholes on roads
Traffic law violations
The consequences of these actions can lead to a car wreck and devastating injuries. Head-on collisions almost produce devastating injuries or wrongful death. Personal injury attorneys are able to help you understand how insurance claims work and how you can file to recover damages, such as medical expenses and lost wages.
If you want to file an insurance claim, contact an Orange County personal injury attorney now. The law firm, Roberts | Jeandron Law, will employ all its resources to get you a fair settlement from the insurance company.
What Does An Orange County Car Accident Lawyer Do?
Orange County car accident lawyers specialize in auto accidents under personal injury law. Lawyers that specialize in personal injury law have more experience in fighting car accident cases than lawyers that do not specialize. They can pursue financial awards for severe injuries suffered and ensure that the culprit pays the price for their negligence.
Since proving negligence is very challenging, an Orange County car accident lawyer would be able to help make things easy. Here's what an Orange County car accident attorney can do for you to help you win your claim or lawsuit.
Investigation and Collection Of Evidence
Investigating the auto accident scene is vital if you want to collect valuable evidence that could make or break your case. To get valuable evidence, your personal injury lawyer would probe into the events that led to the serious accident using witness statements, CCTV camera footage, the police report, vehicle experts, medical records and prognosis, and more.
The defending insurance company will use every trick in the book to pin the blame on you, but an experienced auto accident lawyer knows how to organize and present the evidence. This can be tricky if you're fighting a car accident case on your own, especially if you know nothing about California personal injury law and have no experience in fighting such cases.
Using the evidence collected during the investigation, a car accident lawyer is able to prove that but for the negligence and inattentiveness of the at fault driver, your injuries could have been prevented.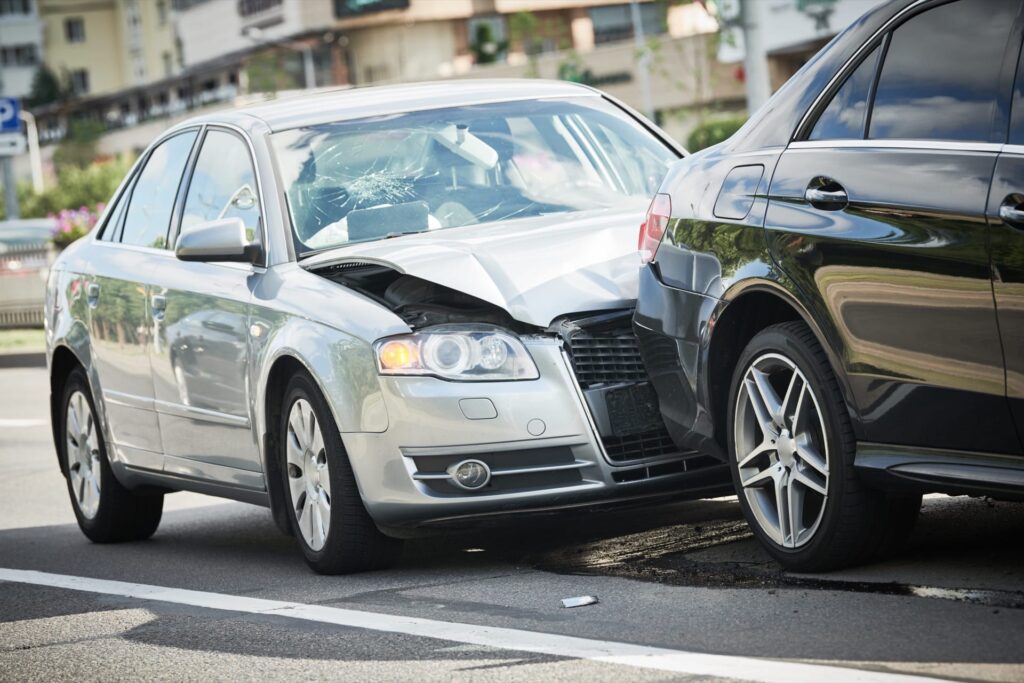 Negotiating With The Insurance Company
One of the biggest challenges you'll face on your way to winning a personal injury claim is the insurance company's reluctance to give you a fair amount. They won't want to pay fair value for your claim.
A skilled negotiator knows how to deal with the insurance company and how to get the demanded compensation without getting intimidated by the insurance company.
If you need an experienced car accident attorney in Orange County, schedule a consultation with Roberts | Jeandron Law.
Legal Representation In The Court
While many personal injury cases in Orange County are settled outside of the court, sometimes, filing a lawsuit is the only option to get fair compensation. Insurance companies are disinclined to give the compensation that the injured driver deserves. We are willing and able to take matters to court to seek justice when they refuse to pay fair amounts to injured clients.
We'll take care of everything, from filing the lawsuit and dealing with all the required paperwork to running other errands that these cases demand. We would also represent your interests in front of the judge and the jury and fiercely fight your Orange County personal injury case. Using the evidence that we collected, we prove how the defendant's negligence caused your spinal cord injuries or other car accident injuries.
We ensure that you are compensated for your physical therapy, medical treatment, and lost wages. If you're a family member of the victim, we demand compensation for the loss of the financial support of the family member. To file a personal injury case in Southern California, contact Roberts | Jeandron Law.
Schedule a meeting today to brief us on your Orange County auto accident; we'll inform you of all the options you have. We charge a contingency fee basis, so you won't have to worry about paying us until after we have won your case. The payment comes out of your settlement check so you never have to worry about writing a check for our fees.
What To Do After An Orange County Car Accident?
Everyone needs to know the first steps to take after an accident. Here is a summary of the things accident victims in Orange County should do before calling Roberts | Jeandron Law to represent them in an injury claim.
Call 911, and report the accident to the police. Seek medical attention immediately, and ask for your medical records and prognosis as proof of your injury.
If there were any witnesses to the accident, take their name, number, and address. It would make it easier to gather evidence when your legal team builds your case for you.
Exchange personal information with the other driver involved in the accident as well. Information such as name, number, address, driver's license number, license plate number, and insurance information of the other driver should be jotted down.
Take photos and videos of the accident scene, take pictures of the car wreck and your injuries at the scene. Damage to every vehicle involved in the accident. Capture images of property damage, including damage to your vehicle. This would make it easier for you to recover compensation for the car wreck as well.
Try to take all the relevant pictures from different angles, so there is less of a chance of misinterpretation of the photos.
Contact a team of personal injury attorneys. Roberts | Jeandron Law can provide you with the best Orange County car accident lawyer in Southern California. We help you recover compensation for lost income and all the other damages.
How Can We Help?
Roberts | Jeandron Law is a personal injury law firm that has been helping victims recover damages for their pain and suffering for a combined 30 years. Our top priority is the well-being of our clients, be it physical, emotional, or financial. We wouldn't want you to pay for expensive medical treatment because of the negligence of others.
Our efforts ensure that the negligent driver pays for their inattentiveness, and you are wholly compensated for any losses you may have incurred during or after your accident. From the insurance company's office to the courtroom, we will fiercely represent your interest and advise you through each decision until you get fair compensation.
Our excellent track record stands testament to our experience and expertise. So far, we have recovered over $75 million for our accident clients in insurance settlements and courtroom verdicts. Here is a summary of our practice areas.
Auto accidents
Auto accident injuries
Commercial vehicle accidents
Wrongful death
Uninsured and underinsured motorists
If you've been involved in any of the above-mentioned accidents, schedule a consultation with us today.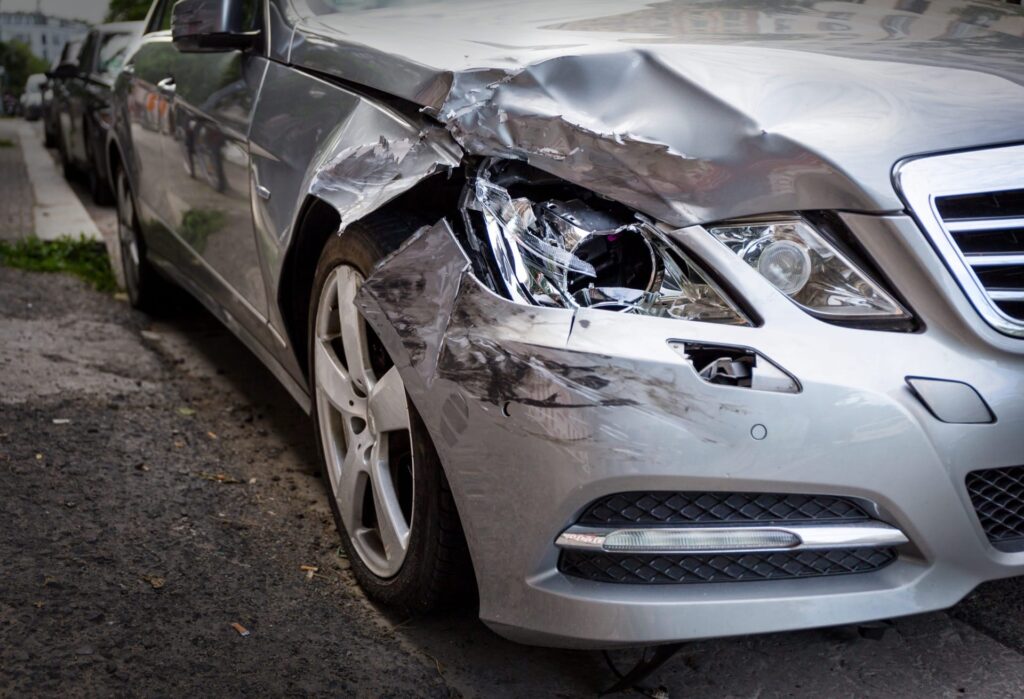 Frequently Asked Questions
What is the statute of limitations for car accidents in California?
According to the California Code of Civil Procedure Section 340, accident victims can file a claim or lawsuit for a car accident in the state for two years after the accident. After the expiration of this period, you could have your claim denied.. Certain exceptions apply to this rule. There are some exceptions to this rule so it is a good idea to consult with a lawyer as soon as possible so you don't have to worry about being late on filing your case. Consult an auto accident attorney to know if you still qualify to apply for the claim or not.
What are the five most common car accidents?
Car accidents can be of different types, and each type can cause different types of damage to the car and different injuries. Here are five common car crashes that you need to know about:
Rear-end collisions.
Failure to yield.
Left Turning Vehicle accidents.
Red Light Violations
While there are numerous other kinds of accidents, those mentioned above are the most prominent in metropolitan cities.
What are serious injuries in a car accident?
Car accidents could cause various injuries, depending upon the severity of the crash and the nature of the crash. Some of the injuries you can expect from such accidents are broken bones, excessive blood loss, head injuries, traumatic brain injuries, spinal cord injuries, loss of limbs, dislocated shoulders, severe lacerations, muscle injury, whiplash, etc. Some of these injuries require prolonged medical treatment, while in some cases, you can return to full health in a matter of weeks. In any case, always seek medical attention after an accident, even if you don't feel pain right after the crash.
What are some signals of a serious injury?
Your injuries after an accident could vary from mild to severe, based on various factors. If the injury is mild, you should still visit a doctor promptly, just to make sure there are no serious hidden internal injuries. For serious injuries, you should follow up with your primary care doctor after being released from the hospital. If you ever experience any symptoms after a serious car accident, call an ambulance without delay and make your health a priority. Types of injuries include:
Uncontrolled bleeding/ Heavy Bleeding
Joint swelling
Severe burn marks
Tissue swelling
Abrasions
Lacerations
Chest pain or tightness
Paralysis
Respiratory issues
Severe pain
Bloody vomit
Absent or weak pulse
Abnormal size of the pupil
Can I still recover damages if I was not wearing a seatbelt at the time of the accident?
The California law mandates that the drivers and the passengers alike to wear seatbelts. However, you may still be able to recover damages if you weren't wearing a seatbelt during your accident. Albeit, your compensation would be reduced for your own percentage of negligence. Since California is a state that allows for a finding of comparative fault, the settlement amount will be reduced by the same percentage as your fault. Even though you may be able to recover, you might end up receiving a citation for failing to wear a seatbelt while driving or riding in a car.
How much do car accident lawyers charge?
At Roberts | Jeandron Law, we charge on a contingency fee basis. This means you won't have to cough up a single penny for attorney fees unless the attorney wins the case for you and recovers damages. So, if you don't get any compensation, you won't have to pay your lawyer fees. If your lawyer recovers damages for your injuries, they will typically charge you around 33.3% to 40% of the total settlement amount. This is the standard rate for contingency fee attorneys in California.