Orange County Pedestrian Accident Attorney
Every time pedestrians step off of a curb, they place themselves at risk for serious injury and even death. Factors such as poor visibility, driver error, and inadequate pedestrian crossings often lead to pedestrian accidents that can have devastating consequences for both the victims and their families. At Roberts | Jeandron Law, our Santa Ana and Orange County-area personal injury lawyers are thoroughly committed to aggressively representing accident victims and helping them obtain the compensation to which they are entitled.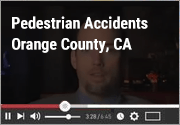 Pedestrian Accident Statistics
The statistics on pedestrian accidents are shocking: on average, a pedestrian is injured in a traffic accident every eight minutes, according to the National Highway Traffic Safety Administration. In 2005, more than 64,000 pedestrians — that is, persons traveling on or near a roadway and not riding within or upon a vehicle — were injured by motor vehicles in pedestrian accidents, and nearly 5000 people were killed.
While people of all ages can be injured in pedestrian accidents, children and the elderly are at the highest risk. Pedestrians over the age of 70 account for 16 percent of all pedestrian accident fatalities, while nearly 30 percent of all pedestrian injuries occurred in children under the age of 16. Over 40 percent of pedestrian fatalities occur between the hours of 3 p.m. and 4 p.m., when a large number of children are walking home from school, and the majority of pedestrian accidents occur in urban environments.
When an unprotected pedestrian is hit by a motor vehicle, the results can be disastrous. Many pedestrian accidents result in serious personal injury or wrongful death. Among the damages that commonly result from pedestrian accidents are injuries to the extremities (arms and legs), broken bones, traumatic brain injuries, spinal cord injuries, and head injuries. If you or a member of your family has been injured in the Santa Ana or Orange County areas, the pedestrian accident lawyers of Roberts | Jeandron Law can help answer any questions you may have about automobile accidents and prepare the strongest pedestrian accident case possible on your behalf.
Pedestrian Accident Cases
Automobile drivers are required to exercise caution when driving in the vicinity of pedestrians. If a pedestrian accident occurs as a result as a driver's negligence and an injury results, that driver must be held responsible for his or her actions and compensate the victim. However, in order to present a viable pedestrian accident case, accident victims must establish that the accident was caused by the driver's negligence or wrongdoing. Examples of driver negligence include the failure to obey posted speed limits, to yield right of way to pedestrians in marked crosswalks, and to pay proper attention to the road due to cell phone use or another distraction, as well as driving while under the influence of drugs or alcohol. Victims of pedestrian accidents may be entitled to damages for past and future medical expenses, past and future income, and pain and suffering. In some cases, victims of pedestrian accidents may also recover punitive damages, which are meant to punish the defendant for his or her extreme negligence. If you are located near the Orange County or Santa Ana region, experienced pedestrian accident lawyers such as Jeff Roberts at Roberts | Jeandron Law can further explain the intricacies of the law and help determine which compensatory damages are appropriate in your particular case.
Schedule a Consultation at Roberts | Jeandron Law
Pedestrian accidents can leave victims with serious, and often debilitating, injuries. If you or a loved one has been injured in a pedestrian accident, contact Roberts | Jeandron Law, serving the Santa Ana and Orange County area. Our pedestrian accident lawyers will assert your rights as a victim of another party's negligent actions and pursue proper compensation for any injuries and damages you and your family have suffered.