Orange County Bicycle Accident Lawyer
Throughout Orange and Riverside Counties in California, more and more people are choosing to ride bicycles because they provide a healthy, inexpensive, and environmentally friendly alternative to driving a car or taking public transportation. By law, bicycles on the roadways are vehicles with the same rights and responsibilities as motorized vehicles.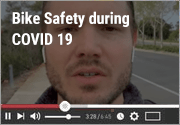 Unfortunately, riding a bicycle while sharing the road with motor vehicles can be dangerous. According to statistics released by the National Highway Traffic Safety Administration (NHTSA), 857 bicyclists were killed in traffic accidents in the U.S. in 2018. That's about a 10% increase in bicyclist fatalities from those in 2007. And, each year over 45,000 bike accidents result in injuries, some serious or even catastrophic.
When accidents involving bicycles and cars occur, bicyclists are extremely vulnerable to serious personal injury, even if they are wearing helmets, due to the extreme difference in mass between a bike and any motor vehicle. A bike is not much more than two wheels, a seat, and handlebars, offering relatively little if any protection against any motor vehicle on the roads. A bicyclist collision with a car can result in any number of injuries. Some of the most common injuries include:
Broken bones
Dislocations
Abdominal soft tissue injuries
Facial fractures
Head injuries are, by far, the most common that are suffered by bicyclists and can range from minor cuts and contusions, to concussions, and even hemorrhages. Even if a victim's head injuries are minor, they can have long-term effects on concentration, attention span, memory, and other cognitive abilities.
Driver negligence is one of the primary causes of bicycle accidents involving motor vehicles. Common examples of driver negligence include:
Driving while impaired by drugs, alcohol, or prescription medications
Turning directly in front of a bicyclist
Failing to yield the right of way at an intersection
Running a red light or stop sign
Speeding or reckless driving
Distracted driving
Victims of bicycle accidents that are the result of negligence or wrongdoing on the part of a driver may be entitled to damages, including compensation for, but not limited to:
Past and future medical expenses
Loss of income
Pain and suffering
Rehabilitation
Home health care
Additionally, victims of bicycle accidents may be entitled to punitive damages if the driver's conduct is deemed to be extremely negligent.
An experienced personal injury attorney can help to protect your rights and get fair and equitable compensation for your injuries.  Roberts | Jeandron Law, Orange County personal injury attorneys, represents victims of bicycle accidents, working tirelessly to ensure that they receive the fair compensation they need so that they can better focus on their recovery.
Your recovery
Bike accident injuries, such as broken bones, head, neck, and back injuries, are going to take weeks, even months, of healing and rehabbing; in other words, you could be looking at a long term recovery. What about your financial responsibility for past and future medical treatment and care bills? Will your insurance coverage be enough to get you through those weeks and months of recovery?
That's why you'll want to contact a personal injury attorney who can help to ensure that you're covered for any eventualities down the road such as physical therapy for lasting neck and back pain or the cost of home health care.
The help you need
If you are injured in a bicycle accident, it is important that you preserve as much evidence as possible from the accident scene, the names and contact information of those involved, and any possible eyewitnesses. Make sure that a police report is filed after your accident. Then, contact an experienced personal injury attorney, ASAP.
At Roberts | Jeandron Law, bike accident attorneys in Orange County, our personal injury attorneys are experienced when it comes to handling bicycle accident cases. Contact our attorneys to schedule a free consultation to discuss your potential lawsuit.
Need help? Contact us now!