Newport Beach Pedestrian Accident Lawyer
Orange County is known for its beautiful walkways and trails for bicyclists and pedestrians. Newport Beach, in particular, has an online walking trail map that encourages people to get outside. Getting hit by a motor vehicle is a common concern for pedestrians, but most people assume that if they use crosswalks or sidewalks that they are safe. Unfortunately, though, accidents still happen.
The pedestrian accident attorneys at Roberts | Jeandron Law provide experienced legal representation for clients in Newport Beach and throughout Orange County. Your attorney will investigate your claim to prove liability on the part of the driver of the vehicle that hit you or a loved one. We fight for you to get the fair settlement that you deserve in your case. Contact our law offices today at (949) 208-9854.
What are the most common pedestrian accident injuries?
Victims of pedestrian accidents tend to suffer serious injury due to the force of being hit by the vehicle. Broken bones, traumatic brain injuries, spinal cord injuries, and skin lacerations are common, serious injuries that require emergency medical attention. Because vehicles protect their occupants, pedestrians, walkers, joggers, and runners are at risk of getting so injured that they may need surgery, follow-up visits with specialists, and months of physical therapy. One study found that pedestrians suffered twice as many head injuries as thoracic injuries.
Internal bleeding is caused by the force of the impact, causing blood vessels or organs to rupture during impact in a pedestrian accident. It can happen in any part of the body, but most critically, it occurs in the chest, kidneys, abdomen, inside the skull, and the upper and lower extremities. Depending on where the ruptures occur, these severe injuries can be life-threatening.
Pedestrian accident cases can be stressful to navigate on your own, but a Newport Beach pedestrian accident attorney from Roberts | Jeandron Law can help you so that you can focus on your recovery.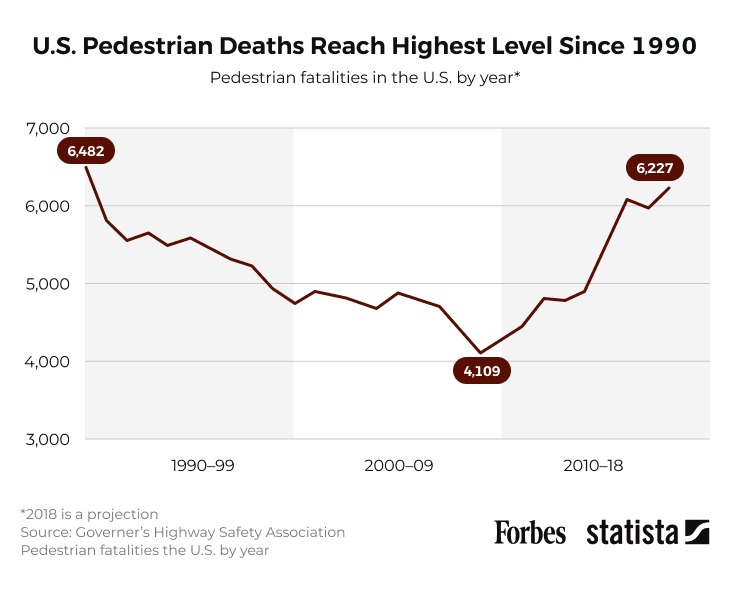 What should I do after a pedestrian accident?
First, call 911 or have a witness or the car's driver call for you. If you are in the middle of the road and capable of moving, then you should get out of the road. Wait for paramedics and the police to arrive so that you can get medical care and the police report.
You should get the names, addresses, phone numbers, and email addresses of the driver and any witnesses. You should also get the driver's car insurance information.
Take pictures of the scene of the accident. Include details like the license plate, skid marks, weather conditions, and stop signs or traffic signals.
If you were recently injured in a pedestrian accident, then you should seek medical treatment. Doctors agree that the initial period after a pedestrian accident is critical to address any serious trauma or wounds, so you should seek medical care immediately.
Lastly, speak to a lawyer with years of experience helping victims of pedestrian accidents; they can negotiate relentlessly on your behalf to reach a fair and just settlement.
How do most pedestrian accidents happen?
A lot of pedestrians assume that if they use crosswalks or sidewalks they are safe, but intersections can be dangerous places. Parking lots are also common places where cars collide with pedestrians because of low lighting, poor signage, and other factors. Distracted drivers who don't see people walking to and from their cars in parking lots are dangerous. Pedestrian accidents in parking lots also happen when drivers back up and hit someone, also known as a backover accident, or when a car door opens into a person walking by.
Who is at fault in a Newport Beach pedestrian accident?
Most pedestrian accidents, like bicycle accidents, occur because a driver is negligent or reckless. Car and truck drivers can be held responsible if they hit a pedestrian and cause injuries. Drivers should always remain attentive and sober when operating motor vehicles. When drivers are distracted, fail to stop at a stop sign or traffic light, fail to yield the right of way to a pedestrian at a crosswalk, disobey traffic laws, fail to signal or disregard wet weather conditions, then a pedestrian accident victim can recover compensation for the injuries caused by the driver's negligence.
What Compensation Means For California Injured Pedestrians
A personal injury attorney from Roberts | Jeandron Law can help you recover punitive damages and compensatory damages in a Newport Beach pedestrian accident claim. The two types of compensatory damages you may be entitled to are economic damages and non-economic damages.
Economic Damages
A pedestrian accident lawyer from Newport Beach can help you recover economic damages related to your accident and physical harm, like your lost income, future lost earning potential, and other out-of-pocket expenses related to the crash. We recommend that clients bring us receipts, invoices, and other financial documents to their free consultation with a Newport Beach pedestrian accident attorney.
Non-economic Damages
A Newport Beach pedestrian accident attorney from Roberts | Jeandron Law can fight for you to receive compensation for your pain and suffering. If your injury left you permanently disfigured, depressed, unable to live independently, or unable to enjoy things that you used to (hobbies, socializing, your career, etc.), then you may be able to recover non-economic damages in your personal injury claim.
Punitive Damages
Although awarded rarely in personal injury cases, victims of pedestrian accidents can recover punitive damages under Civil Code 3294. Punitive damages are meant to punish drivers who commit egregiously wrongful acts and to deter the driver from engaging in the same misconduct in the future. For example, drivers who were under the influence of drugs or alcohol at the time of the crash may be ordered to pay punitive damages.
Get a Free Consultation With A Pedestrian Accident Attorney
We highly recommend that you bring the following to your consultation:
Photographs of the scene of the pedestrian accident
Contact information for the driver of the vehicle and any witnesses statements
The police report
Your medical records
Call 949-208-9854 now to schedule your free consultation with a Newport Beach pedestrian accident lawyer from Roberts | Jeandron Law. We will fight for you to be fairly compensated for your damages after your pedestrian accident.