Uninsured and Underinsured Motorists
Claims and Insurance Coverage
In California, many serious car accidents are caused by motorists who do not have insurance or do not have enough insurance to cover the damages they cause. These uninsured and underinsured motorists make up 22 percent of California's drivers, and cause nearly one out of every two car accidents on the road. Very often a driver's own insurance will help victims cover losses caused by uninsured or underinsured motorists. Personal injury attorney Jeff Roberts and Michael Jeandron of The Roberts | Jeandron Law Firm, located in Orange County, answers common questions about uninsured motorist accidents; please contact our office if you'd like to schedule an appointment with him or another member of our legal team.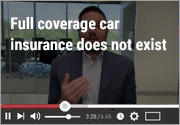 As a driver in California, why is having uninsured/underinsured motorist coverage so important?
Due to the high traffic density that many Californian's experience on a day-to-day basis, it is important that your automobile policy includes uninsured and underinsured motorist coverage. Without this coverage, you or a loved one injured in an accident by an uninsured or underinsured motorist may be without financial compensation for your losses.
Am I financially protected from uninsured/underinsured motorists?
It is not surprising to find that with 26 million registered drivers in California, most insurance policies sold in California include coverage for accidents caused by uninsured/underinsured motorists.
Your insurance company is required by law to include uninsured/underinsured coverage in your policy unless a driver has signed a document waiving such coverage. The front page of your insurance policy should indicate whether or not you are covered. If you are unsure about your coverage, please contact your insurance agent or an attorney who can review your policy for you. Jeff Roberts is an Orange County attorney who handles cases of uninsured and underinsured motorist accidents; contact our office to speak with him.
When do I have a claim?
If you are insured against uninsured/underinsured motorists, your coverage extends to situations when you are injured by a driver who is uninsured/underinsured. Your policy is not limited to situations where you are injured while driving your car.
If you are injured by an uninsured/underinsured driver, you are covered by your uninsured/underinsured motorist policy if you are injured as a:
Bystander
Motorcyclist
Passenger
Who is covered by my uninsured/underinsured motorist policy, and when do they have a claim?
An even greater incentive to ensure that you are protected financially from uninsured/underinsured motorists is that coverage extends to the members of your family who reside in your household. If you have minor children who do not live at home, they are also covered by your uninsured/underinsured motorist policy. Your policy coverage also extends to passengers in your car and to those who drive your car with your permission. In each of these situations, your insurance policy against uninsured/underinsured motorists will apply when an uninsured/underinsured motorist accident causes injury.
What losses are covered?
Your insurance coverage typically covers financial losses which include:
Medical expenses
Loss of income/earnings
Diminution of your ability to earn money in the future
Other expenses reasonably incurred
Your insurance coverage typically covers non-financial losses which include:
Pain and suffering
Emotional distress
Loss of the ability to engage in or enjoy activities
Contact The Roberts | Jeandron Law Firm
With more than 13 years of experience in personal injury litigation, motorcycle accident attorney Jeff Roberts can help you get the compensation you deserve. Victims of uninsured or underinsured motorist accidents should contact The Roberts | Jeandron Law Firm, serving Orange County and all surrounding Southern California areas, to speak with Mr. Roberts.