Fatal Motorcycle Accidents
Motorcyclists are susceptible to crashes with cars and trucks because they are relatively less visible than all other vehicles. They are especially vulnerable at nighttime and during bad weather when the visibility of other drivers decreases. Lack of seeing motorcyclists is the number one cause of motorcycle crashes and the loss of life in motorcycle accidents.  In 2019, 5,014 motorcyclists died in accidents in the United States – thousands more suffered catastrophic injuries because of impacts between motorcycles and cars. 
If you've suffered injuries in a motorcycle accident or lost a loved one in a fatal crash due to the negligence of a driver, call Roberts | Jeandron Law now. We will help you pursue a personal injury claim and either negotiate a fair settlement for your harms and losses or file a lawsuit to ensure you get fair compensation.  Call today and we'll immediately schedule a free consultation with one of our motorcycle accident attorneys.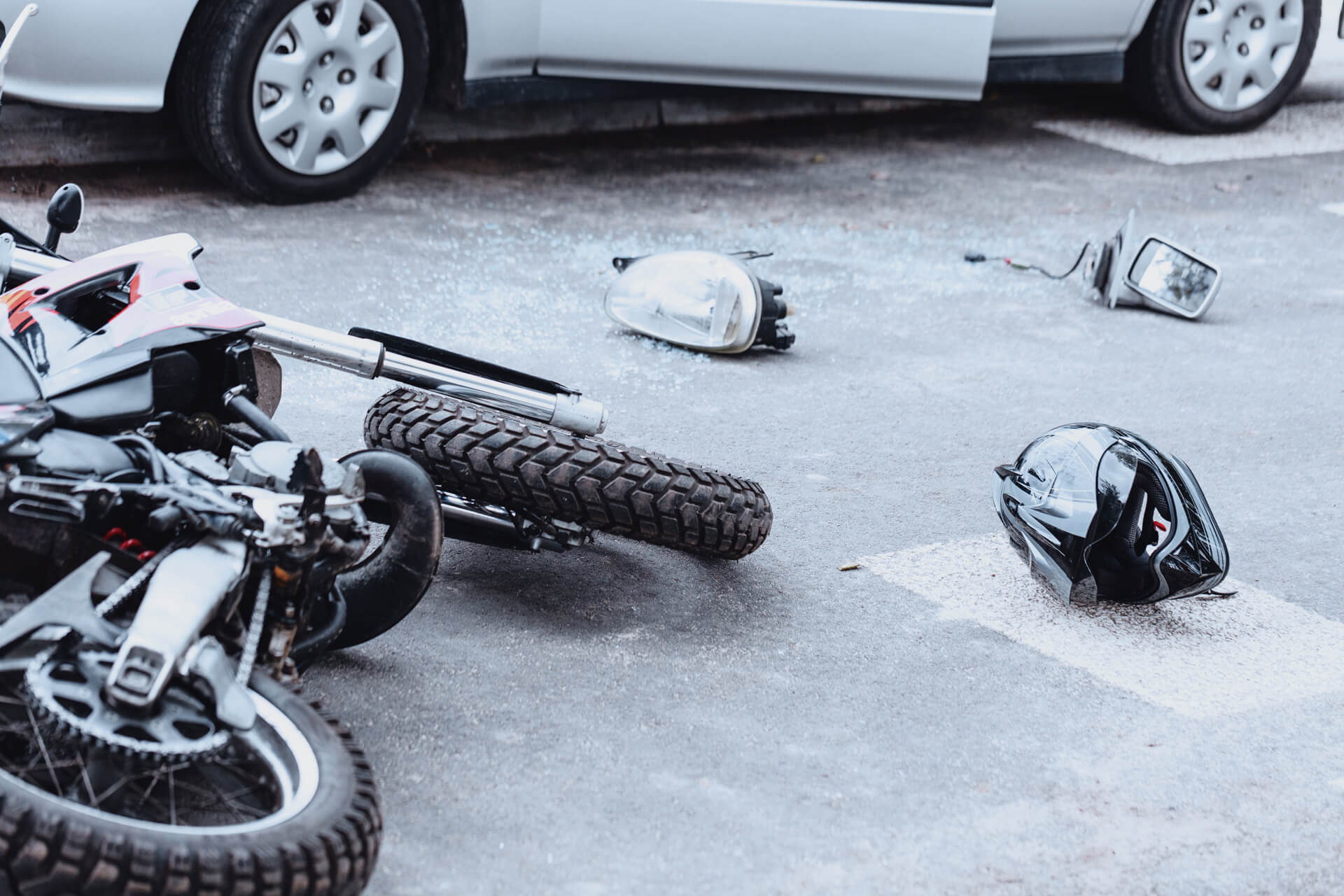 Top Causes of Motorcycle Accidents
Motorcycle crashes, especially those involving large heavy-duty vehicles such as a bus or a truck, can result in death. Here are some leading causes of fatal motorcycle accidents.
Driving Under the Influence
Statistics show that a significant portion of motorcycle accident deaths result from drivers driving drunk. When a driver's mental faculties are impaired by alcohol, including decreased perception/reaction time, decreased depth perception, and increased risk taking, an already vulnerable motorcyclist is at an extremely heightened risk of harm.
Alcohol can affect some key areas of the brain, including the Cerebral Cortex, which influences the judgment and reasoning of the person, and the Cerebellum, which controls balance and coordination. This is why drunk driving is one of the top causes of fatal motorcycle accidents.
Speed
All states have set a speed limit on different kinds of roads, but many drivers disregard the basic speed law and swerve in and out of traffic at unsafe speeds. At higher speeds, both the car drivers and motorcyclists decrease their perception/reaction time, thereby decreasing the space and time to avoid collisions.
Speed-related motorcycle accidents are all too common in Orange county. If you've been in a motorcycle accident because someone else was speeding, you can recover all of the damages you have incurred, including medical bills, lost income, and your pain. Schedule a meeting with Roberts | Jeandron Law now.
Mechanical Problems
While human fault is the cause of most motorcycle accidents, at times, it is a mechanical problem in a vehicle that shares the road with motorcyclists. All too often people neglect their tires and their brakes, causing cars to lose control from blowouts or not being able to stop when worn brakes fail.
It is negligence when a car owner fails to maintain their car's brakes or tires and causes a collision with a motorcycle. If a car owner's failure to take care of their car leads to a motorcycle accident with injuries then the motorcyclist can recover all of the harms and damages caused by the collision.
Weather Conditions
California drivers don't drive in bad weather often, so when they do, they often lose control of their cars. Particularly when it first begins to rain after a long dry spell, the oil and debris on the road floats to the surface and makes the roads very slick. This puts even the safest of motorcycle riders at significant risk from being struck by out-of-control cars. Not driving safely and properly reacting to bad weather is negligence. If this happens and it causes a motorcycle crash, the driver is responsible to pay for all medical bills, lost income and a motorcyclist's pain. The motorcycle accident attorneys at Roberts | Jeandron Law can determine if another party was negligent, and if so, give you an estimate of how much compensation you may be entitled to recover.
Road Conditions
Here are some road conditions that could lead to motorcycle crashes –
Potholes
Gravel and stone
Flowing water
Hidden driveways
Improperly marked curves
Improperly lit roads and pathways
Uneven pavements
Resurfaced roads
Grooved paths
Unmarked lanes changes
Many more unsafe road conditions could cause your motorcycle to swivel and collide with another vehicle or property.
Apart from these, distracted driving, reckless driving, violation of traffic rules, and texting are also some prime causes of motorcycle accidents. If you've been in a motorcycle crash, contact Roberts | Jeandron Law as soon as you can to schedule a consultation and we'll get to work on your case immediately.
Roberts | Jeandron Law
Roberts | Jeandron Law is a motorcycle accident and personal injury law firm in California that will get you justice for you for your injuries or the loss of a loved one due to a motorcycle crash. With over 27 years experience, Roberts | Jeandron Law has recovered over $100 million for our personal injury clients in insurance settlements and court verdicts with a track record of winning injury cases.
If there's any law firm in Orange County that can swiftly get you the deserved compensation for your pain and suffering, it's us. Schedule a free consultation to review your motorcycle accident case. Once you hire us we'll immediately begin collecting evidence for your case. Call us now.