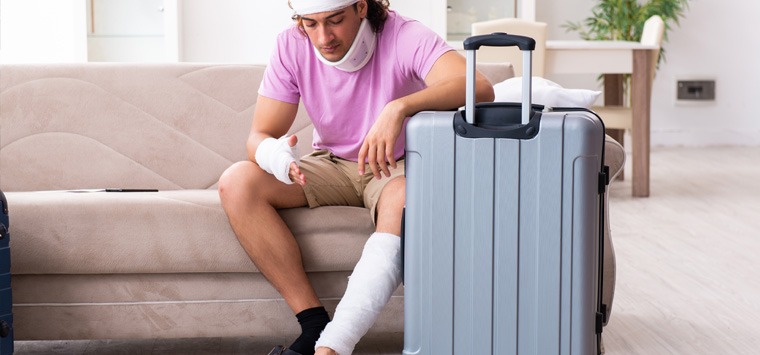 Taking a vacation provides you with the opportunity to travel to new places, interact with different cultures, and have new and fun experiences, creating great memories along the way.
Some time away from work can make you more focused and productive when you return to the job. You may experience improvements in your mental motivation as well as your cognitive skills after getting some time away from the job.
A big part of planning your vacation is finding a place to stay once you determine your destination. Airbnb is an online service that connects people looking for short-term (and even longer stays) with property owners willing to rent to guests. Airbnb claims to offer travelers that use its service a unique experience with all the comforts of home.
While most Airbnb guests have a good experience, unfortunately, things can go wrong. If you're injured while at an Airbnb rental, you should seek medical attention ASAP which may mean a trip to the local emergency room. Make sure you take photos of the accident scene and have documentation such as medical and hospital bills.
Afterwards, you're bound to have questions about who is liable and what to do in order to be financially compensated for your injuries.
You should be protected
Common types of accidents that can occur to guest stay at an Airbnb rental include those involving bodily injury and those involving property damage. Injuries can be the result of a variety of factors including slip and falls, inadequate maintenance, dangerous property, swimming pool accidents, or inadequate security. Usually, claims for bodily injury are filed by guests against the Airbnb owner and would be covered under premises liability law.
Premises liability law is based on the idea that property owners have a duty to "lawful guests" on their property to remove any hazards that may result in an injury. Because Airbnb guests are considered to be invited guests, an owner has a legal liability if he or she created or knowingly allowed a hazard to exist without resolving it.
Airbnb Host Protection Insurance is an insurance policy that the company extends to its guests. The insurance pays out up to $1 million to the guest that has been injured during a stay. But the injury must have occurred due to owner negligence, and it's not available in every country where the company has listings.
If you're injured at an Airbnb rental, you can make a claim for compensation via the Airbnb Host Protection Insurance. However, if you're not paid fairly for your injury, you have the right to bring a legal claim vs. both the host and the company for refusing to honor its policy.
Should you contact an attorney?
If you're hurt while staying at an Airbnb, you deserve to receive fair and adequate compensation. Even if you make a claim through the company's Host Protection Insurance, you should consider hiring a personal injury attorney to help you determine a fair value for your injuries.
At Roberts | Jeandron Law, our dedicated personal injury lawyers will help you deal with your claim quickly and efficiently. To schedule a free consultation, contact us at our office in Newport Beach.
---
Disclaimer: The information you obtain at this site is not, nor is it intended to be, legal advice. You should consult an attorney for advice regarding your individual situation. We invite you to contact us and welcome your calls, letters and electronic mail. Contacting us does not create an attorney-client relationship. Please do not send any confidential information to us until such time as an attorney-client relationship has been established.