If you have been injured in an accident due to the negligence or intentional act of another, you have a legal right to compensation for medical costs and any other losses sustained as a result. But you may ask yourself is it worth it to hire a personal injury attorney or should you try to handle the case on your own?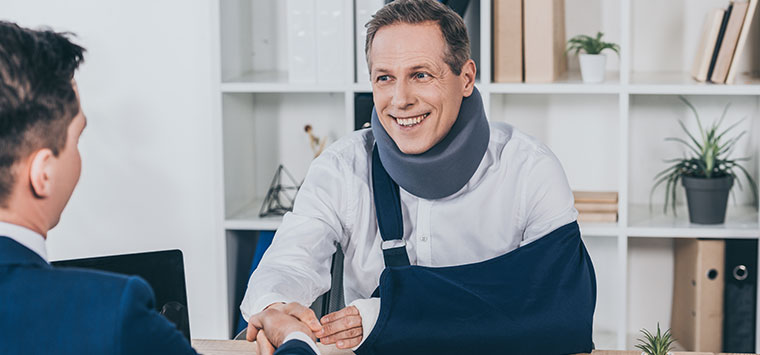 Base your decision on the extent of your injuries. The level of injury can make a significant difference in processing your legal claim. In some cases, if your injuries are very minor, you may be able to handle your claims through insurance companies or Small Claims Court.
However, this option is not right for all cases. When suffering severe injuries for which long term care is needed or left with permanent disabilities, you should hire a personal injury attorney. If there are multiple parties involved in the accident and/or liability for the accident is not clear, or if the insurance company refuses to pay or negotiates in bad faith, you should hire a personal injury attorney.
If you have never had to enter into a lawsuit before, consider the pros and cons of hiring a personal injury attorney before making your decision.
What you may miss by not hiring an attorney
Personal injury cases, especially those in which serious injuries are involved, can be complicated. A thorough and comprehensive understanding of state as well as federal personal injury laws is needed in order for your case to be successful. Hiring an experienced personal injury attorney will improve your chances of winning.
Damages that may be claimed in a personal injury case include economic damages, non-economic damages, and punitive damages. A personal injury attorney will know what types of damages you can claim, how much to sue for, and who to contact to initiate the negotiation process.
Another benefit of having a personal injury attorney fighting for you is that it saves you time and stress which you need in order to begin the healing process.
The only negative sometimes associated with hiring a personal injury attorney is the cost. How much does it cost to hire a personal injury attorney? While some personal injury attorneys charge hourly fees, most charge their clients a contingency fee. You only pay your attorney if they are able to negotiate a monetary settlement or win a judgment in a court of law.
Is your case worth it?
In the state of California, if you have been seriously injured in a car accident due to negligence, liability, or intentional harm on the part of another party, contact us.
At Roberts | Jeandron Law, Newport Beach personal injury law firm, our priority is to ensure that you receive compensation for physical and mental damages including medical treatment and hospital costs, lost wages, mental suffering and anguish, pain and suffering, and other expenses resulting from your injury.
---
Disclaimer: The information you obtain at this site is not, nor is it intended to be, legal advice. You should consult an attorney for advice regarding your individual situation. We invite you to contact us and welcome your calls, letters and electronic mail. Contacting us does not create an attorney-client relationship. Please do not send any confidential information to us until such time as an attorney-client relationship has been established.