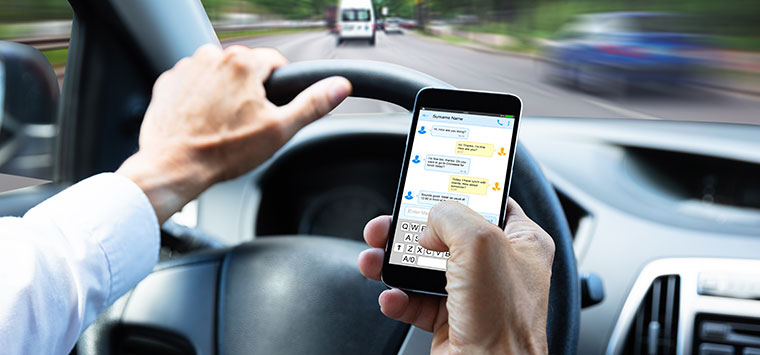 California has several laws on the books banning the use of cellphones while driving. The first two laws prohibit all drivers from using handheld wireless phones or cellphones and bans drivers under the age of 18 from using hands-free cellphones. A third law bans texting and other wireless device use while driving.
Unfortunately, even with these laws in place in California and other states, approximately 600,000 drivers are attempting to use their cellphone at any given time throughout the day while driving. Some other sobering statistics about cellphone use while driving include the following:
1 out of every 4 car accidents in the U.S. is the result of texting while driving
Approximately 390,000 injuries happen each year from accidents caused by texting driving
Cell phone use while driving leads to 1.6 million crashes each year
Of all cell phone related tasks, texting while driving is the most dangerous
As cell phone use continues to increase, so do your chances of being involved in a car accident caused by distracted driving. What happens if you are in an accident in which the other driver was on the phone and not paying attention? His or her carelessness may result in severe injuries to you and/or a loved one.
After the accident, you may feel overwhelmed, confused, and worried about your recovery, how will you pay your bills, and be able to handle other responsibilities. You may be entitled to compensation from the person responsible for causing the accident. Seek an attorney who understands the compensation you deserve for your injuries, medical care, pain and suffering, and lost income.
Proving your case
If you are bringing a legal claim against the other driver of the car, you have to be able to prove that he or she caused the accident as a result of texting while driving. To prove that someone was on their cell phone at the time that an accident has taken place can be done by using:
Cell phone records
Witness statements and drivers' statements
Accident scene pictures, including the interior of the defendant's car and position of the cell phone
Police reports
Medical records
Traffic surveillance footage
Accident reconstruction reports
Send us a text…but not while you're driving
Proving distracted driving in order to get fairly compensated for injuries sustained in a car accident is harder to prove than drunk or aggressive driving. If you have been involved in a car accident in which the other person was distracted by their phone, enlisting the services of a top tier personal injury attorney can help you obtain the evidence necessary to prove negligence and resolve your case with the best possible results.
At Roberts | Jeandron Law, car wreck attorneys in Newport Beach, we have the experience necessary to help you pursue the compensation you need to make sure that you have a successful recovery.
---
Disclaimer: The information you obtain at this site is not, nor is it intended to be, legal advice. You should consult an attorney for advice regarding your individual situation. We invite you to contact us and welcome your calls, letters and electronic mail. Contacting us does not create an attorney-client relationship. Please do not send any confidential information to us until such time as an attorney-client relationship has been established.