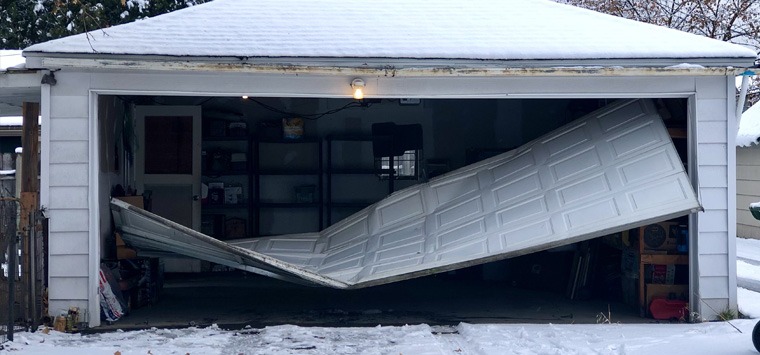 When most people look at their garage doors, they probably don't see a weapon of mass destruction. But, believe it or not, your garage door is actually one of the most dangerous parts of a household. Automatic garage doors are responsible for tens of thousands of injuries and dozens of deaths every year. The most common injuries that people sustain due to an automatic door or gate include cuts and bruises from broken glass and other materials, getting stuck/pinned underneath it while it's closing, and even severed fingers in extreme cases.
Most garage door accidents are a result of improper installation. Whether you're dealing with residential or commercial applications, automatic overhead doors need to be regularly inspected and maintained. However, commercial garage doors are often bigger, sturdier, and more likely to cause serious damage if not correctly maintained. Wondering what happens when someone is injured by an automatic garage door? Here's everything you need to know about the process that ensues.
What happened?
If you or someone you know has been injured due to improper garage door installation or maintenance, you're likely wondering who to sue for a garage door accident. Should you go after the homeowner who installed the door, the landlord who was responsible for maintenance, or the company who manufactured it? There are a few different categories of garage door injury claims which determine who can be held responsible for your injury.
Your case will either be designated as negligence, product liability, or premises liability. Premises liability cases require that homeowners or landlords that control a property be financially responsible for damages, while product liability cases can only be raised against the garage door manufacturer. Negligence claims are much broader, and can be brought against the garage door company or a property owner/manager.
Details and next steps
You will likely be dealing with significant medical expenses and potential property damage following a garage door injury. If you were seriously injured, you may even face lost wages due to an inability to work or physical therapy costs on top of hospital bills. These are the types of expenses that can be compensated in the event of a lawsuit. Depending on the circumstances, the manufacturer or building owner or manager can be held liable for those costs, making it beneficial to seek legal help as soon as possible.
Court cases can be messy and confusing, and you are more likely to receive appropriate compensation with the aid of a professional attorney. Having a lawyer to support your claim, help you gather evidence, and complete the appropriate documentation on your behalf will greatly improve your chances of coming out with a sizable settlement. Not sure who to turn to? Roberts | Jeandron law is a firm comprised of experienced and dedicated lawyers. It is one of the top places to find a Newport Beach personal injury attorney who will fight for the compensation you deserve. 
---
Disclaimer: The information you obtain at this site is not, nor is it intended to be, legal advice. You should consult an attorney for advice regarding your individual situation. We invite you to contact us and welcome your calls, letters and electronic mail. Contacting us does not create an attorney-client relationship. Please do not send any confidential information to us until such time as an attorney-client relationship has been established.