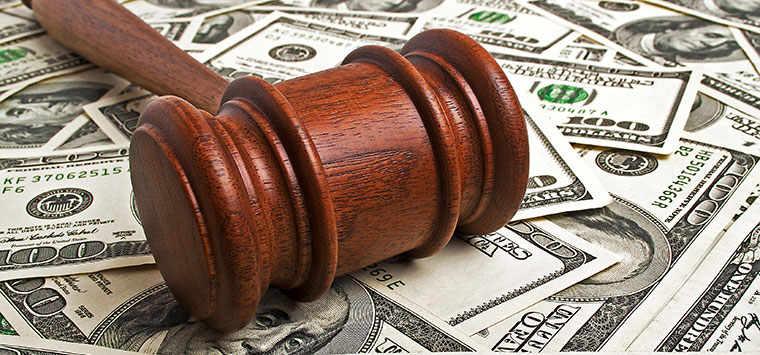 If you've been injured due to someone's negligence, carelessness, or an intentional action to cause bodily harm, you may be entitled to compensation for such things as medical costs, lost wages, and the cost of medications and rehab, to name a few. These are referred to as "compensatory damages."
However, in some cases, especially those involving awful injuries or wrongful death, the judge and jury may also award what are referred to as "punitive damages." The purpose of punitive damages is to punish the individual that caused your injuries or the wrongful death of a loved one, and are generally based on the pain and suffering you experienced and will have to endure due to your injuries.
If you feel that you have been injured due to the fault of another party or parties and want to file a lawsuit to get compensation for your injuries, your first question to a personal injury attorney will more than likely be about how much your case could be worth.
Some of the factors that affect the amount of compensatory damages a victim receives include:
Extent of medical treatment
Invasiveness of medical treatment
The length of time medical rehab is needed
Long-term pain management news
Impact of the injuries on quality of life
Extent of the negligent choices made by the defendant
Amount and duration of suffering
Some factors that affect the amount of punitive damages awarded to a victim include:
Scarring
Disfigurement
Permanence of the injury
Physical impairment such as amputation or blindness
Wrongful death
Physical as well emotional pain
But, a study conducted by Martindale-Nolo showed that people who hired a personal injury attorney to litigate their case received 340 percent more in compensation than those who went it alone.
Some of the highest value personal injury cases can give you some idea of the value of having an experienced personal injury attorney in your corner.
Top 3 largest personal injury cases
The top 3 largest personal injury cases to date involved massive settlement agreements:
$206 Billion — Tobacco Settlement
$150 Billion — The Robert Middleton Case
$ 4.9 Billion — General Motors
Although these types of massive settlement amounts are rare and personal injury law has gone through many changes over time, these cases and others like it serve to illustrate how much you stand to win with the help of an experienced personal injury attorney
Some cases are worth billions. Could yours be worth millions?
While it's true that there are a variety of factors that have an impact on how much personal injury cases can be worth, the Martindale-Nolo study clearly pointed to the fact that retaining an attorney can have a significant effect on the outcome of your claim. Victims with attorneys received settlements or awards that were, on average, $60,000 higher than those without legal representation.
Have you or a loved one been injured in an accident due to negligence on the part of another person?  If so, enlist the services of one the experienced personal injury attorneys at Roberts | Jeandron Law, personal injury law firm in Newport Beach. Take a few minutes to read about our personal injury case results found on our website.
---
Disclaimer: The information you obtain at this site is not, nor is it intended to be, legal advice. You should consult an attorney for advice regarding your individual situation. We invite you to contact us and welcome your calls, letters and electronic mail. Contacting us does not create an attorney-client relationship. Please do not send any confidential information to us until such time as an attorney-client relationship has been established.