Slip and fall accidents can result in serious injuries — head injuries, traumatic brain injuries, hip fractures and other broken bones, back injuries, and even death. If you've been injured in a slip and fall accident on a public or private property that is owned by someone else, you may have a legal claim if your fall was due to the property owner's negligence.
Injuries from slip and fall accidents that occur at a store can occur for any number of reasons. Examples include: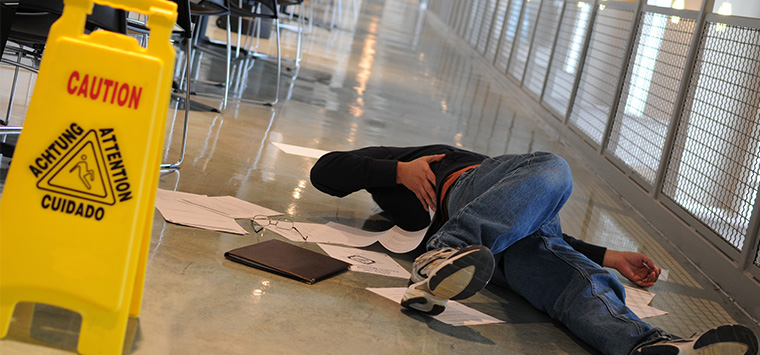 Spills on floors
Accumulation of ice or snow at the entrance
Frayed floor mats or carpeting
Poor lighting
Display items that fall in the path of a customer
While you may feel that you have a valid case against the store for compensation, there are some key issues that you need to consider. Is the store liable? This will depend on whether the store had reasonable notice of the unsafe condition and a chance to fix it.
Do you have a case? That depends on whether you can prove negligence on the part of the store and its owner(s). You will have to provide evidence that proves that the store knew or should have "reasonably" known of the unsafe condition, but failed to take the steps needed to remedy those conditions.
Did they breach their duty to maintain safe premises?
A store has a duty to maintain safe premises and to keep the property reasonably safe for customers. Unsafe conditions that result in injuries to a customer can lead to a premises liability claim against that business.
However, in order to prove liability in a slip and fall injury case, you must be able to prove that.
The property owner created or contributed to the problem that caused the slip and fall
The property owner knew that the problem existed, but didn't take reasonable care to fix or correct the problem; OR
The problem that caused the slip and fall has existed for a period of time in which the property owner should have discovered or been aware of it and should have fixed it.
Over the years, there have been some cases of note involving customers who were injured while visiting grocery stores and department stores, including Costco, Lowes, Home Depot, and Walmart. In most of these cases, the plaintiff was able to prove negligence on the part of the store and/or one of its employees, and was subsequently awarded damages resulting from a jury verdict or negotiated settlement.
Working with an attorney
If you were injured in a slip and fall accident at a store, preserving as much evidence as you can including pictures of the dangerous conditions, witness statements, and documentation regarding the severity and subsequent treatment of your injuries, is crucial to proving your story of the incident.
Just as important is contacting an attorney with experience when it comes to handling slip and fall cases. Roberts Jeandron Law, slip and fall attorneys in Orange County, are committed to getting clients the compensation that they deserve for their injuries. A fall on a slippery floor can result in an injury that can be life-changing. Contact our offices to schedule a free consultation.
__________________________________________________________________________
Disclaimer: The information you obtain at this site is not, nor is it intended to be, legal advice. You should consult an attorney for advice regarding your individual situation. We invite you to contact us and welcome your calls, letters and electronic mail. Contacting us does not create an attorney-client relationship. Please do not send any confidential information to us until such time as an attorney-client relationship has been established.