In the state of California, drivers have a legal obligation to yield the road to pedestrians crossing the street in crosswalks. Drivers must lower their speed when approaching crosswalks and remain alert to any pedestrians that may enter the roadway.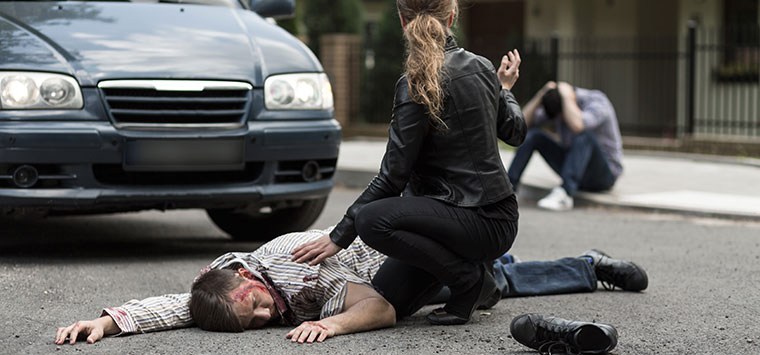 If you're hit by a car while walking in a crosswalk, the driver is almost always found to be at fault and legally liable. In fact, statistics show that drivers are at fault in over half of the pedestrian accidents that occur in California. According to California personal injury laws, anyone who has sustained injuries in a pedestrian accident can seek compensation by filing a lawsuit.
If you are a pedestrian and are struck by a car in a crosswalk, parking lot, or even walking along the side of the road, in order to recover damages after the accident, you have to prove that the driver in question was negligent and that it was this negligence that resulted in your injuries.
Do you have a case?
When it comes to proving negligence in car accidents in which a pedestrian has been involved, the victim of the accident or surviving family members must be able to demonstrate that:
The driver owed the pedestrian in question a duty of care
The driver breached that duty of care due to negligence
The driver's negligence was a substantial factor in causing injury or death to the pedestrian
An individual is considered to be negligent if he or she failed to act in a way that a reasonably careful person would in the same situation.
One of the most common causes of accidents between cars and pedestrians involves the failure of the driver of the car to yield the right-of-way to a pedestrian. Other examples of driver negligence that contribute to these types of accidents include:
Speeding
Failure to stop at a stop sign
Texting while driving
Driving drunk or under the influence of drugs
If you or a loved one has been hit by a car while walking in a crosswalk, you need to arrange to speak with an experienced personal injury attorney before you talk to the insurance company representing the driver.
Yes, you should speak to an attorney
Serious personal injuries resulting from an accident between a pedestrian and a car could include:
Cuts, bruise, lacerations
Broken bones
Facial trauma
Head, neck, spinal cord injury
Concussion
Traumatic brain injury
Internal injuries
The damages that are recoverable will depend on the extent of the victim's injuries and/or whether the victim died as a result of the accident. May include financial compensation for:
Medical and hospital bills
Lost wages
Lost earning capacity
Rehabilitation
Loss of consortium
Pain and suffering
Loss of limb
Scarring or disfigurement
In cases in which the victim suffers fatal injuries, the surviving family may be able to file a wrongful death lawsuit.
Roberts | Jeandron Law, wrongful death attorneys in Orange County, will provide all the legal help to build a successful case, prove the elements of wrongful death, and get the compensation that you deserve for the death of your loved one.
---
Disclaimer: The information you obtain at this site is not, nor is it intended to be, legal advice. You should consult an attorney for advice regarding your individual situation. We invite you to contact us and welcome your calls, letters and electronic mail. Contacting us does not create an attorney-client relationship. Please do not send any confidential information to us until such time as an attorney-client relationship has been established.