If you have been injured in a car accident, slip and fall, or other type of accident that was not your fault and are considering hiring a personal injury attorney,you probably have a lot of questions.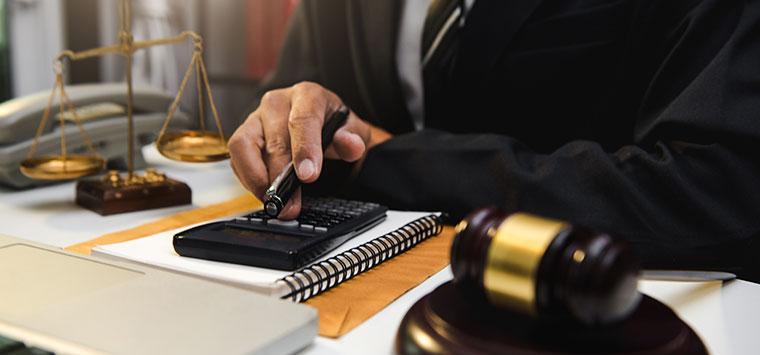 At the top of that list of questions is more than likely going to be how much does it cost to hire a personal injury attorney. While costs and expenses can run high in personal injury cases, you need to weigh those against the cost of not hiring an attorney. Personal injury cases, especially serious personal injury cases, can be complicated, especially when it comes to determining liability.
Most personal injury cases are offered on a contingency fee basis which means that clients only pay the attorney if he or she is successful in negotiating a monetary settlement with the defendant or is successful at winning a judgement if the case goes to trial. However, some attorneys offer other payment options. So, the answer to the question of how much does a personal injury attorney charge? It depends upon the attorney.
33% to 40% on average, but…
The average personal injury lawyer contingency fees run between 33% and 40%. The majority of personal injury attorneys will cover the costs and expenses associated with your case, and then will end up deducting them from your share of the settlement or award. Costs and expenses can include, but are not limited to:
Expert witness fees
Filing fees
Investigators and experts
Depositions
Transcripts
However, not all cases are the same, and these costs and expenses can increase significantly, especially if a settlement doesn't occur until close to the trial date or if the case goes to court.
A fee agreement is drawn up in which his or her contingency fee percentage varies depending on the stage of the case when it's resolved. If the case is settled before a lawsuit is filed, the contingency fee is generally no more than 33%.
Worth every penny
The insurance company that you are making the claim against is going to do everything in its power to discourage you from hiring a personal injury attorney. A study conducted by the Insurance Research Council concluded that the average person receives a settlement that is approximately 3.5 times larger when they hire a personal injury attorney rather than going it alone.
At Roberts | Jeandron Law, Newport Beach personal injury attorneys, we are committed to achieving the results that all of our clients deserve. Our settlement and verdicts have totaled over $75 million for clients. Contact our office for an introduction and free case evaluation.
---
Disclaimer: The information you obtain at this site is not, nor is it intended to be, legal advice. You should consult an attorney for advice regarding your individual situation. We invite you to contact us and welcome your calls, letters and electronic mail. Contacting us does not create an attorney-client relationship. Please do not send any confidential information to us until such time as an attorney-client relationship has been established.