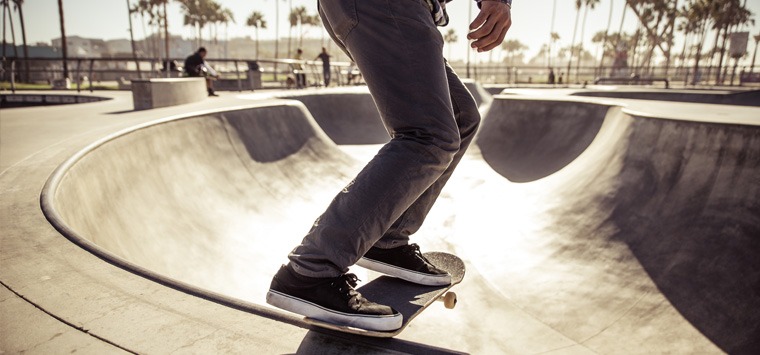 Skateparks are purpose-built recreational areas where riders can practice skateboarding and other related activities such as BMX and inline skating. Generally speaking, skateparks are not flat surfaces, but contain several dips and hills. Structures such as ramps, stair sets, railings, bowls, and pipes are constructed for riders to practice their moves and have fun competing with other skateboarders. Skateparks may be privately or publicly owned.
While skateboarding is a popular sport, it's often considered to be extreme because of the types of injuries that riders can sustain from falls. Common types of injuries that can occur at skateparks include:
Cuts and abrasions
Sprains
Fractures and dislocations
Facial injuries
Concussions, closed head injuries, or blunt head trauma
The risk of skateboarding injuries can be reduced when riders wear the proper equipment such as properly fitting helmets, wrist guards, and knee/elbow pads. Skateboards should be kept in proper working order, and skateboarders should be proficient at the basics, including how to "safely" fall before they move on to tricks.
Reasons the skatepark could be liable
If injured at a skatepark and require medical treatment, who could be held liable for your injuries? If the skatepark is privately owned, the owner and/or operator could be liable. If the park is publicly owned by an entity such as township, city, or county, that entity could face liability for accidents.
Most privately owned parks may have signs posted about safety, etiquette, and warnings. Some may have you sign a waiver that releases them from liability if you are injured while on their property. In the case of public owned parks, the entities could invoke "tort immunity," protecting them from lawsuits which would cause them to pay out money.
However, there are situations where owners/operators can still be found liable, including:
Poor maintenance: failing to repair broken structures, such as ramps that develop sharp edges.
Not having appropriate lighting
Defective equipment
Not posting warning signs in areas that are readily visible to patrons
In cases of serious personal injury, enlist the services of a personal injury attorney. These types of cases can present a challenge due to the complexities involved in determining liability.
Legal remedies
If you are injured at a skatepark, you may be able to bring a personal injury claim for premises liability or product liability, depending on the cause of your injuries. At Roberts | Jeandron Law, personal injury attorneys located in Newport Beach, we serve all of Southern California where skateboarding is part of the cultural fabric.
Whether your injury was the result of negligence, carelessness, or an intentional act, we offer the experienced representation you need to secure the compensation you deserve. If you do not have the proper legal representation, you may end up without the compensation that you deserve to move forward with your life. When it comes to premises liability laws, we have successfully litigated favorable verdicts and compensatory settlements for our clients.
---
Disclaimer: The information you obtain at this site is not, nor is it intended to be, legal advice. You should consult an attorney for advice regarding your individual situation. We invite you to contact us and welcome your calls, letters and electronic mail. Contacting us does not create an attorney-client relationship. Please do not send any confidential information to us until such time as an attorney-client relationship has been established.