Trampoline parks have become increasingly popular over the past decade, growing into a billion-dollar industry in the past few years. While these parks can be fun for people of all ages, the lack of oversight and state regulations regarding safety standards have resulted in dangerous parks posing a risk of serious injury and even death to their visitors.
Even though the owners of trampoline parks recently founded the International Association of Trampoline Parks (IATP) to address the issue of safety, the safety standards they have developed are simply recommendations. Unfortunately, trampoline parks are not legally obligated to meet any of these safety standards.
Some of the safety issues that plague trampoline parks involve:
An overcrowded facility which puts visitors at risk of collisions
A facility with unsafe conditions due to dangerous equipment, exposed material that poses a danger, lack of netting, incorrect bedding/padding
Understaffing at a facility with less than adequate overseeing of jumpers and monitoring adherence to park rules
A lack of necessary liability insurance to cover injuries and other unfortunate events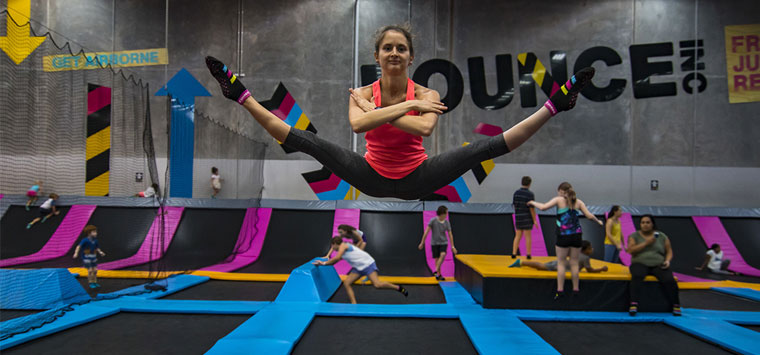 If you or someone you love has suffered an injury at a trampoline park, you need to contact a trampoline park injury lawyer to see if you're eligible to initiate a personal injury lawsuit.
Trampoline park injury statistics
According to the Consumer Product Safety Commission, trampoline park injury stats show that the number of visits to the ER as a result of trampoline park injuries has increased dramatically from 2,500 in 2013 to approximately 18,000 in 2017. The majority of these injuries occur in children under the age of 15. In 2019, CBS News reported that, since 2012, there have been at least six confirmed trampoline park deaths.
Over the past several years a number of trampoline park injury cases have been filed on behalf of individuals who have suffered injuries due to an accident at a trampoline park.
In order to determine the liability of the trampoline park, it's necessary to establish the cause of the trampoline park injury. Three possible parties that could potentially be held liable for the injury:
The trampoline park
The company that constructed or installed the park
The manufacturer(s) of the park's trampolines and/or other products
While trampoline parks usually require visitors to sign a liability waiver, this doesn't completely prevent a person from filing a lawsuit against any or all of the above parties. Generally speaking, it depends on the specifics of the incident that resulted in the injury.
Your unique case
Although liability waivers may protect trampoline parks from trampoline park injury lawsuits resulting from simple negligence, they usually won't shield them from lawsuits alleging gross negligence.
If you or your child has been injured at a trampoline park, it's important for you to consult with a personal injury attorney that has experience dealing with trampoline park injury cases, so you can get the compensation you or your child deserves.
The Roberts | Jeandron Law Firm, located in Orange County, California, has been successful a recovering millions of dollars in settlements for clients. Visit our website to browse our case history for verdicts and settlements.