If injured while on the job, you may be able to file for workers' compensation which, if your claim is successful, could replace up to about 60% of your wages as well as pay for your medical care and any rehabilitation that's needed.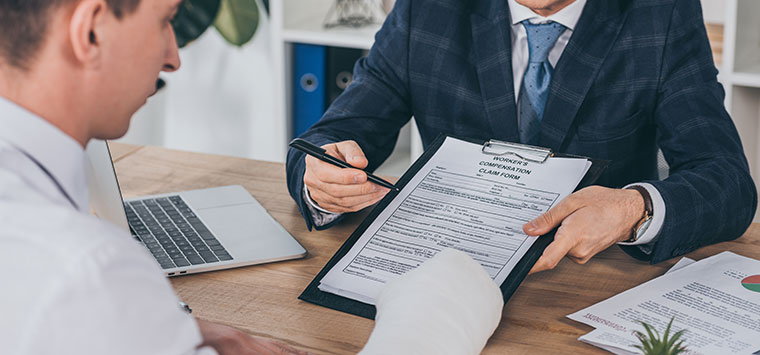 However, if injured outside of work due to an accident that was caused by negligence on the part of another person or party and can't go back to work after your injury, you may have to file a personal injury claim for economic compensation as well as non-economic compensation such as pain and suffering. For individuals who work physically demanding jobs and sustain a serious or life-altering injury outside of work, this can result in a big financial setback.
These types of accidents can include, but are not limited to a:
Bicycle accident
Pedestrian hit and run accident
Motorcycle accident
Slip and fall
Defective product
Medical malpractice
What to expect
Filing a personal injury lawsuit in conjunction with an accident caused by another's negligence can get you monetary compensation for a variety of costs that are related to your injuries, your recovery, and any damage to your property.
Potential damages that may be covered include:
Past and future medical costs
Lost wages as well as future wages that you would have earned
Permanent scarring and disfigurement
Physical therapy and other rehabilitation
Pain and suffering
Loss of consortium
In order to have a successful claim, you need to be able to prove that the accident and your subsequent injuries were the direct result of another's negligence or intentional act. In order to recover damages in California, you, the plaintiff, need to prove three things:
The defendant owed you a duty of care
The defendant breached that duty of care
The defendant's negligence was a significant factor in causing your injuries
Calling an attorney
If you have been injured in an out-of-work accident and can't work because of your injury, your options are significantly limited when it comes to financial safety nets such as workers' compensation. While you may be eligible for short-term or long-term disability, it won't begin to cover the loss of a steady income. Taking legal action may be your only recourse to get the compensation that you need now and will need going forward.
At Roberts | Jeandron Law, California personal injury lawyers, we understand the long-term effects that a serious, life-altering injury can have on a victim as well as their loved ones. We are committed to working with our clients to get them the compensation that they deserve for their injuries. 
Take a few minutes to read about some of our personal injury cases to see our results.
---
Disclaimer: The information you obtain at this site is not, nor is it intended to be, legal advice. You should consult an attorney for advice regarding your individual situation. We invite you to contact us and welcome your calls, letters and electronic mail. Contacting us does not create an attorney-client relationship. Please do not send any confidential information to us until such time as an attorney-client relationship has been established.