The death of a loved one is devastating, but even more so if that person lost their life due to negligence on the part of another person or entity. In most states, including California, a claim of wrongful death can be made if a person dies as a result of: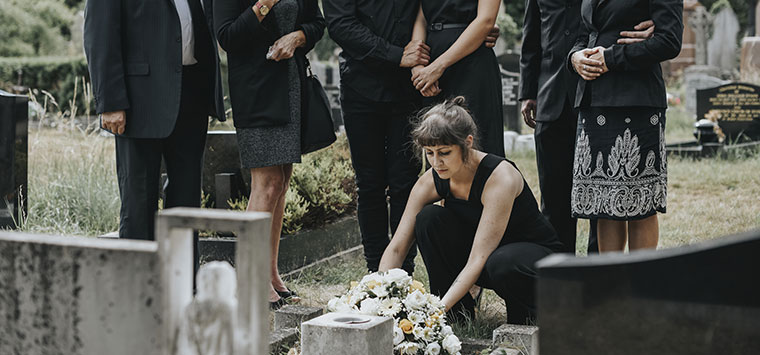 Medical malpractice
Negligence-based acts
Intentional actions
Wrongful death and personal injury lawsuits share one thing in common: they both result from negligent, reckless, or intentional actions on the part of an individual or entity that cause harm or injury to the victim or plaintiff. However, that's where the similarities between the two types of cases end.
Wrongful death lawsuits are very different from personal injury lawsuits because, unlike a personal injury claim which is filed by the person who has suffered the injury, filing a wrongful death lawsuit is done by the survivors of the victim.
In a personal injury claim, the victim may be able to recover compensation for damages such as medical expenses, lost wages, loss of consortium, rehabilitation costs, and pain and suffering.
In a wrongful death claim, however, the survivors of the victim seek to be compensated for medical and funeral expenses, loss of future earnings, financial support for the survivors, loss of care, comfort, and companionship.
In California, a wrongful death claim can be filed by the decedents:
Spouse
Domestic partner
Children
The grandchildren of any deceased child of the decedent
Taking action during a difficult time
In cases of wrongful death where there is no surviving person in the decedent's "line of descent," such as a husband, wife, or children, a lawsuit may be initiated by anyone "who would be entitled to the property of the decedent by intestate succession." This can include the decedent's next of kin: parent or parents of the deceased, or the siblings of the deceased.
Additionally, the following persons can also bring a wrongful death lawsuit in the state of California if they can prove that they were financially dependent upon the deceased:
"Putative spouse" of the deceased
Children of the putative spouse
Stepchildren of the deceased
Parents of the deceased
Legal guardians of the deceased if the ward's parents are deceased
If you think that someone caused the death of your family member due to negligence or an intentional action, speaking to an attorney with experience in California laws as they pertain to who can file a wrongful death lawsuit should be the first step you take.
How to prove your case
While each case is different, what all wrongful death cases have in common is that it can be challenging when it comes to proving that the death of a loved one was the fault of another.
In addition to providing legal advice about who can sue for wrongful death, an experienced wrongful death attorney will be able to gather all of the information and evidence needed to prove the elements of wrongful death and get the compensation that your family needs and deserves.
To speak with one of our wrongful death attorneys, contact the Orange County office of Roberts Jeandron Law to schedule a free consultation. Check out the wrongful death FAQs on our firm's website.
---
Disclaimer: The information you obtain at this site is not, nor is it intended to be, legal advice. You should consult an attorney for advice regarding your individual situation. We invite you to contact us and welcome your calls, letters and electronic mail. Contacting us does not create an attorney-client relationship. Please do not send any confidential information to us until such time as an attorney-client relationship has been established.