Personal injury
Holding the Reckless and Negligent Accountable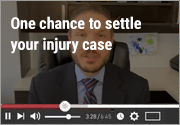 Personal injury law, also known as tort law, refers to cases in which a victim is injured as the result of another person's negligent or wrongful actions. Personal injury law encompasses a wide range of cases, including slip and fall, wrongful death, bus and trucking accidents, pedestrian accidents, and premises liability. When you or a cherished member of your family has been injured due to the negligence of another person, it can be difficult to know how properly to proceed in order to protect your interests. Personal injury cases can be complex, so it is important to seek the representation of an experienced personal injury lawyer who will focus on your case while you focus on your recovery. In the Santa Ana and Orange County area, The Roberts | Jeandron Law Firm focus their practice on helping victims of personal injury.
Types of Personal Injury Cases
Every personal injury case involves two elements: liability for the incident which led to the injury and damages related to the injury. Personal injury cases are divided into three categories based upon these two elements: negligence, strict liability, and intentional wrong.
If you have been injured because of a faulty product or someone else's negligent actions in the Santa Ana and Orange County area, a skilled personal injury attorney from The Roberts | Jeandron Law Firm can represent you in securing the full compensation to which you are entitled. At The Roberts | Jeandron Law Firm, our lawyers handle the following types of personal injury cases:
Compensation in Personal Injury Cases
Each personal injury case is different. Some victims suffer only minor injuries while others suffer devastating injuries that change their lives forever. Compensation in personal injury cases may include past and future medical expenses, property damage, pain and suffering, loss of income, and loss of enjoyment of life. In extreme cases, personal injury victims may also be entitled to punitive damages. An experienced personal injury attorney can tell you which damages may apply in your particular case.
Often serious personal injury cases result in the following types of injuries. If you or a loved one has suffered any of the following injuries as the result of an accident or the negligence of another, you may be compensated for your medical expenses, suffering, and other damages:
Contact The Roberts | Jeandron Law Firm
It is imperative that personal injury victims in the Santa Ana and Orange County area seek the representation of a skilled personal injury attorney who can determine how much their case is worth and gather the necessary evidence to ensure that they receive full compensation for their losses and expenses. If you or a family member has been the victim of personal injury, please contact The Roberts | Jeandron Law Firm today. Our personal injury lawyers have extensive experience aggressively representing victims in many different types of personal injury cases and have amassed an impressive record of favorable verdicts and substantial settlements.