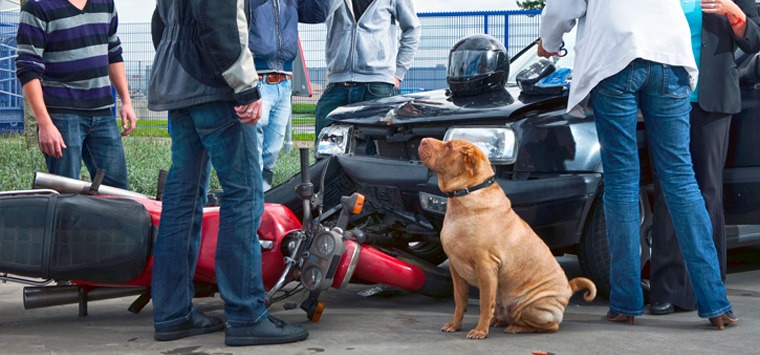 One risk to motorcyclists that most riders don't think about are motorcycle accidents caused by dogs that are not on a leash or allowed to run free by their owners. Some dogs become excited or scared by loud noises or fast-moving vehicles. If the dog is not properly restrained, it may end up running into the road in front of an oncoming motorcycle.
When a dog is hit by a car, it can result in serious injury or death to the animal, but it's unlikely that anyone in the car would be injured. However, if a motorcyclist ends up hitting the dog or swerving to avoid the dog, it could result in serious injury or death to the rider and/or passenger of the motorcycle because they are much more exposed.
Depending upon where you live, different leash laws may apply because not only can they vary from state to state, but from county to county, and even town to town! But, most states have "running at large" laws. A dog is considered to be running or roaming at large when it's:
Off the owner's premises
Not confined in a crate or fenced in yard
Not under the "restraint or direct control of the owner or his agent"
Dog at large, who's in charge?
In California, a dog owner is liable for negligence per se if their dog causes an injury to a person while off-leash in a public domain. These types of laws also apply to an owner that let his or her dog run at large and, as a result, the dog caused a motorcycle accident. The pet's owner is responsible for the crash and any resulting injuries.
One challenge in these types of cases often involves identification of the dog as well as identifying its owner. However, once the dog's ownership has been established, the type of claim made against the owner will go through his or her homeowner's insurance policy.
If the owner has individual assets, a claim can be made against those assets as well.
Do you have a case?
If you've been injured in a motorcycle accident caused by a dog running into the road, you may be able to receive compensation for medical expenses, hospital bills, rehab, nursing care, lost income, or pain and suffering as a result from injuries from the accident.
An experienced motorcycle injury attorney can help with an investigation of the accident, collecting evidence such as witness statements and photos as well as medical records and bills for treatment in order to bring a claim for damages against the owner of the dog. 
At Roberts | Jeandron Law, motorcycle accident injury attorneys in Orange County, our goal is to make sure that you receive the compensation that you deserve for your injuries. We will work hard to negotiate a settlement amount that will help you to move forward.
Contact our office to schedule a free legal consultation.
__________________________________________________________________________
Disclaimer: The information you obtain at this site is not, nor is it intended to be, legal advice. You should consult an attorney for advice regarding your individual situation. We invite you to contact us and welcome your calls, letters and electronic mail. Contacting us does not create an attorney-client relationship. Please do not send any confidential information to us until such time as an attorney-client relationship has been established.