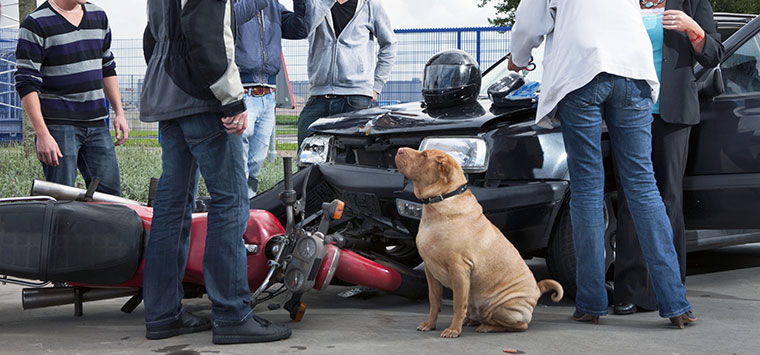 There are many causes of car accidents: distracted driving, speeding, bad weather conditions, or driving while under the influence. However, an off-leash dog in the road can create a serious hazard for the dog, your car, you, your passengers, and other drivers on the road.  
It's illegal to let your dog roam free in most cities and counties in the state of California. When off your private property, you must leash your dog according to the leash laws of your county or municipality.
Drivers who encounter a loose dog in the road automatically swerve to avoid hitting it, which can cause them to run into another car, a pedestrian, or other objects on the side of the road. If a driver slams on his or her brakes to avoid hitting a loose dog, they can end up being rear-ended by the driver behind them.
When an off-leash dog causes a car accident, the dog's owner is liable for the crash and any resulting injuries. You may be able to get compensated for medical and hospital expenses, lost income, nursing care, and pain or suffering if you were injured in the accident.
Roberts | Jeandron Law, personal injury attorneys in Newport Beach, are committed to ensuring you receive fair and equitable compensation, so that you can better focus on your recovery.
Were you injured in the accident?
If you were involved in an accident caused by a dog running loose in the street, you may also have been injured in the accident. Here are some possible injuries:
Fractures and broken bones
Cuts and lacerations
Disfiguring facial injuries
Internal injuries
Head injuries, including traumatic brain injuries
Back and neck injuries
Spinal cord injuries
At our Orange County law firm, our experienced attorneys can initiate an investigation of the accident and collect evidence including witness statements, photos, medical records and bills for treatment, all needed to bring a successful claim for damages against the dog's owner.
How to file a claim in this type of accident
California laws are very clear when it comes to dogs "running at large" on any public street. It is a pet owner's responsibility to obey these laws to protect his or her pet from serious injury or even death if that animal is hit by a car or motorcycle while running loose in the road and to protect drivers who are using the road.
Motorcycle accidents caused by dogs are especially dangerous because the rider and/or passenger are much more exposed and could suffer serious injury or even death as a result.
These types of claims state that the dog owner is at fault for resulting injuries caused by their unleashed animal and are by the insurance company that holds the owner's homeowner's insurance policy. In addition, if the animal's owner has individual assets, a claim can also be made against those assets, too.
If you have been involved in an accident caused by an off-leash dog and are considering filing a personal injury claim, contact the office of Roberts | Jeandron Law.
---
Disclaimer: The information you obtain at this site is not, nor is it intended to be, legal advice. You should consult an attorney for advice regarding your individual situation. We invite you to contact us and welcome your calls, letters and electronic mail. Contacting us does not create an attorney-client relationship. Please do not send any confidential information to us until such time as an attorney-client relationship has been established.