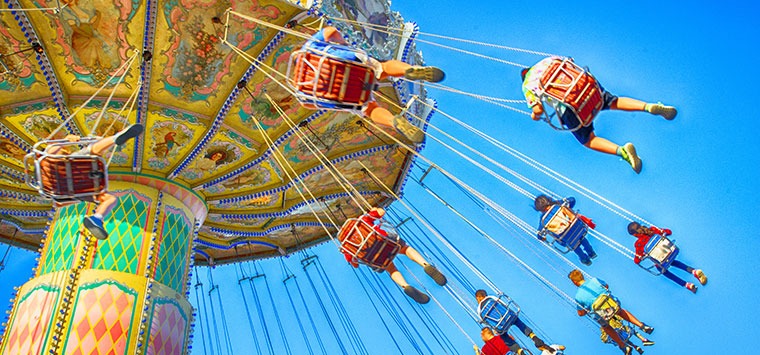 If you live in Southern California, you have lots of theme parks to choose from: Universal Studios, Six Flags Magic Mountain, Knotts Berry Farm, Sea World, to name a few. But, since it first opened in Anaheim in 1955, Disneyland has been enchanting kids of all ages from around the world with magical experiences and memories that last a lifetime.
Unfortunately, thousands of visitors to Disneyland and other Orange County amusement parks are the victims of an amusement park injury each and every year. If you've been injured at Disneyland or another amusement park, what are your rights? Whose responsibility is it to pay for damages when a park visitor is injured?
If you've been injured at a theme park or amusement park, you may be able to bring a legal claim for negligence against the park and/or its employees or a product liability claim against the manufacturer of a ride or attraction, or both. Some types of accidents that can occur in Disneyland or other amusement parks include:
Slip and falls
Food poisoning from contaminated food and drinks
Defective products, including mechanical failure rides
Ride operator negligence
Proving negligence generally requires that you, the plaintiff, be able to prove the following four elements:
The defendant had a duty of care to keep their premises safe for all who enter
The defendant breached that duty of care
That breach of duty resulted in injury or harm
The victim suffered injury or losses that may be compensated monetarily
The most common types of amusement park injuries
The most common types of injuries that happen at theme or amusement parks usually are the result of slip and fall hazards. Slip and fall injuries include:
Broken bones
Soft tissue injuries
Hip fractures
Sprained ankles and wrists
Cuts and abrasions requiring stitches
Traumatic brain injuries
Back and spinal cord injuries
Head, neck, and shoulder injuries
Injuries from park rides include:
Stroke from trauma to neck ligaments
Traumatic brain injuries
Laceration, broken bones, and torn ligaments
Head, neck and back injuries from bumper cars, spinning rides, or roller coasters
Death as a result of falling or being thrown from a ride or drowning on a water ride
Getting compensated correctly
The type of compensation in amusement park personal injury cases depends upon the circumstances surrounding the accident. Compensation for a victim in an accident may include:
Medical and hospital bills
Lost wages
Rehabilitation costs
Pain and suffering
Costs of future medical care
Mental anguish
Loss of consortium
A wrongful death claim may be brought by surviving family members of the victim of a theme or amusement park accident that resulted in death.
If you or a family member have been injured in an accident that occurred while visiting Disneyland or other area amusement parks, you have legal rights under California's personal injury laws.
Schedule a free case evaluation with Roberts | Jeandron Law, Orange County personal injury lawyers.
---
Disclaimer: The information you obtain at this site is not, nor is it intended to be, legal advice. You should consult an attorney for advice regarding your individual situation. We invite you to contact us and welcome your calls, letters and electronic mail. Contacting us does not create an attorney-client relationship. Please do not send any confidential information to us until such time as an attorney-client relationship has been established.