Car accident injury attorneys in Orange County
Motor vehicle accidents in the U.S. result in many thousands of injuries and deaths each year. Unfortunately, these accidents are often caused by careless or reckless drivers. The result? A car accident injury can bring about a sudden and unexpected change to your life, whether it's temporary or results in a long-term impact.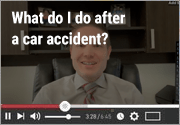 In order to properly operate a motor vehicle, drivers must stay alert and obey all of the rules of the road. Car accidents occur when drivers are distracted, drive aggressively or recklessly, or drive while impaired. Additionally, accidents can be caused by failure on the part of the driver to maintain an operational vehicle, poor road design and/or maintenance, or inclement weather conditions.
Regardless of the cause of a car accident, serious and often catastrophic personal injuries, including traumatic brain injury, spinal cord injuries, and even wrongful death, are too often the tragic result.
In the aftermath of a car accident, you're bound to be confused and frightened, especially if you have sustained a serious injury. In the state of California, a person who is injured in a car accident due to negligence, liability, or intentional harm on the part of another party, has the right to file a lawsuit for physical and mental damages including:
Reasonable costs of medical treatment
Hospital and nursing care
Loss of earning and/or impairment of earning capacity
Mental suffering and anguish
Pain and suffering
Other expenses incurred as a result of the injury
The amount of compensation to which you are entitled is generally based upon the severity of your injuries which is measured by the cost of your medical bills, the type of injury sustained, and your recovery time.
Because your potential compensation could be wide-ranging, it's critical to retain the services of a personal injury attorney that specializes in car accidents to ensure that you receive that compensation that you deserve.
The car accident injury attorneys at Roberts | Jeandron Law have the experience necessary to help victims of car accidents in Newport Beach, Santa Ana, and other cities in Orange County pursue the compensation they need to focus on their recovery.
Your legal rights
When searching for car accident injury attorneys to handle your case, it is important to choose an attorney that has a proven case history when it comes to dealing with the specifics of your case. This can make all of the difference between getting the financial compensation you deserve vs. ending up with financial obligations at the end of the legal process.
You need to feel that you can trust your attorney to be a strong advocate for your legal rights and feel confident that he or she will act in an ethical manner as well as a practical one where your budget is concerned. In cases that are more than a short-term dispute, the lines of communication should remain open between you and your attorney. You want to avoid hiring an attorney that doesn't return your phone calls or emails in a timely manner.
The attorneys at Roberts | Jeandron Law work tirelessly for all of their clients, regardless of the size and scope of their case. The firm has successfully recovered more than $75 million for clients in settlements and jury verdicts.
Our legal help
When you or a family member has been injured or died as a result of a car accident caused by negligence on the part of another party, it can be difficult to know how to best proceed to protect your rights and those of your family.
If you are in need of the legal services of an attorney for car accident injuries, contact Roberts | Jeandron Law to schedule a free consultation at our Orange County-area office.
Regardless of the cause of your injury, we will work with you to ensure that the responsible party or parties are held accountable for their actions.
Need help fast? Click to Text or Call