Perfect temperatures all year long, some of the best beaches in Southern California, a plethora of cultural events, an abundance of sunny days, great restaurants — what's not to love about Newport Beach!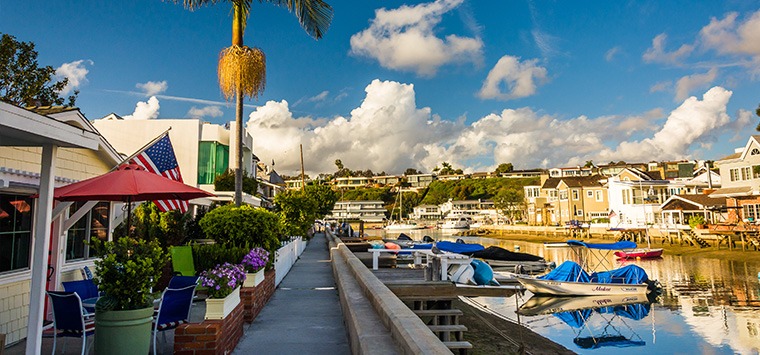 Other reasons why we love Newport Beach and decided to locate our law office here. It's a great family community with safe neighborhoods and some of the top ranking public schools in Orange County. There are lots of things to keep both kids and adults entertained throughout the year. Campers, hikers and mountain bikers enjoy Crystal Cove State Park and Upper Newport Bay. The fishing is great with about 80 fishable species located in Newport Bay. Fashion Island at Newport Center is a great shopping and entertainment destination for the whole family.
Newport Beach is adjacent to Orange County's John Wayne Airport and the University of California at Irvine. It's 44 miles from downtown Los Angeles, a reasonable commute by car and public transportation. Hoag Memorial Hospital Presbyterian provides quality healthcare at their two hospitals and eight urgent care centers, and it has been named as one of the Best Regional Hospitals in U.S. News and World Report Metro Edition.
It's not just about the weather
Although the Newport Beach weather is a big draw, there are a lot of other reasons that make Newport Beach the ideal place to live, work, and play. With some of the best beaches in all of Southern California, Newport Beach is the place to go for sun, to surf, boogie board, and swim. It's easy to dolphin and whale watch from the shore then, at the end of day, catch a beautiful Pacific sunset.
If you're looking for things to do in Newport Beach, walk, bike, drive, or take the ferry to Balboa Island, home to upscale shops and quaint restaurants serving a variety of great food. Try one of the island's two famous desserts, the Balboa Bar and Frozen Banana. Take a walk on one of the two piers in Newport Beach – the Balboa Pier near the Fun Zone on the island and the Newport Beach Pier. Rent a Duffy boat and enjoy a "Dock and Dine" experience where the locals eat.
Newport Beach has a nice small town feeling because of the friendly people that live here. Everyone seems pretty calm and laid-back. It's a nice contrast to the hustle and bustle of L.A. to the north and San Diego to the south.
Caring for our community
If you're looking for outdoor fun, Newport Beach has it all — surfing, kayaking, biking, hiking. Renting electric scooters has also become a popular pastime in Newport Beach. However, electric scooter rental injuries have jumped 222% over the past four years. One in three people injured on an electric scooter were hurt during the first ride.
If you have been injured while riding an electric scooter rental, contact the offices of Roberts|Jeandron Law, personal injury attorneys in Newport Beach. We represent anyone that has suffered an injury as a result of negligence.
__________________________________________________
Disclaimer: The information you obtain at this site is not, nor is it intended to be, legal advice. You should consult an attorney for advice regarding your individual situation. We invite you to contact us and welcome your calls, letters and electronic mail. Contacting us does not create an attorney-client relationship. Please do not send any confidential information to us until such time as an attorney-client relationship has been established.